Last night I put together a new recipe using my fancy new All Clad Stir Fry Pan that I won from Food Buzz. I was so excited to try out my new pan that it was worth cooking up two meals last night just to test it out. This recipe turned out to be so amazing and had so much flavor. I really liked the spicy kick and will definitely make it again. You can mix/match your ingredients, but, I tend to just throw in whatever sounds good as I go along. I served this over 1 cup Trader Joe's Organic Frozen Brown Rice (cooks in 3 minutes & it tastes just like the real deal) and paired it with a nice big orange for the perfect lunch.
Broccoli & Red Pepper Cashew Chicken
Ingredients:
** Note: You can make this recipe vegan by using Tofu or Vegetarian using a Chicken Substitute. I think this recipe would be fabulous with all types of meat/non-meat variations.
Marinade and chicken:
1 tablespoon reduced-sodium soy sauce
1 tablespoon white wine
1 tablespoon hoisin sauce
2 teaspoons cornstarch
½ teaspoon toasted sesame oil
1 egg white, lightly beaten
1 pound boneless chicken breasts, cut into 1-inch pieces
Freshly Ground Pepper if desired
Aromatics:
¼ cup minced green onions
1 tablespoon minced garlic
1 tablespoon minced ginger
1-2 teaspoon chili garlic sauce (depending on how much heat you want)
Sauce:
3 tablespoons water or chicken broth
3 tablespoons low-sodium soy sauce
1 tablespoon white wine
1 tablespoon balsamic vinegar
½ teaspoon toasted sesame oil
2 teaspoons sugar
1 teaspoon cornstarch
1 tablespoon canola oil, divided
½ cup dry roasted cashews
1 cup diced red bell pepper
4 cups chopped broccoli

1. To prepare marinade, whisk all ingredients (except chicken) together in a medium bowl. Add chicken, and refrigerate 30 minutes.
2. Combine green onions, garlic, ginger and chile sauce in a small dish.
3. Combine sauce ingredients in a small bowl and whisk together.
4. Heat a 12-inch skillet over medium-high heat (I used my new All Clad Stir Fry pan from Food Buzz)until searing hot. Add 1 teaspoon oil, then half the chicken using a slotted spoon since you do not want the sauce. Cook, without stirring, 2 minutes. Turn and cook another 2 minutes. Remove from pan before it's thoroughly cooked through. Repeat with another teaspoon of oil and remaining chicken.
5. Add remaining 1 teaspoon oil to pan. Add green onion mixture; stir-fry 30 seconds. Add bell pepper and the broccoli. Sauté until just crisp-tender, 2 to 3 minutes.
6. Return chicken to pan; toss. Shake sauce and add to pan. Cook until sauce thickens slightly. Add cashews; toss gently. Serves 6.
I starteed to get a little worried when the chicken was cooking. I know in my other stainless steel pans the meat sticks a little until it is cooked but then, it is released. It may have stuck a little here due to the higher heat (normally I'd use low to medium heat).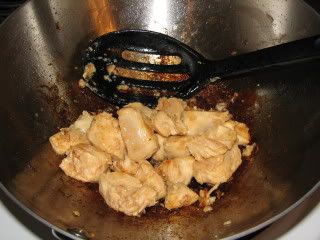 As everything cooked though, nothing else seemed to stick and the chicken even came out without a problem when I took it out.
Look at how beautiful it is again after cleanup. Everythiing just washed right off and it was like brand new again.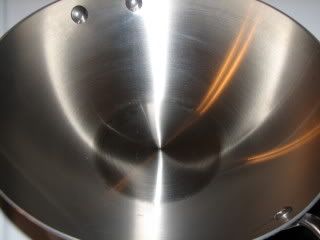 I have to say I LOVE my new pan and I am so thoroughly impressed with my All Clad Stir Fry Pan. It cooked up my Broccoli & Pepper Cashew Chicken without a hitch and it cleaned up so easily. I will definitely be using this again and looking to add more All Clad to my pan collection.
I just got back from a nice lunchtime walk and am ready to dig into more work ~ fun times. See you all for dinner and another new recipe….I can't wait.