Today was one of those days where I was running all around solving problems, yet, I ended the day feeling like I hadn't quite accomplished very much. Oh well, it's only Monday and I still have 3 1/2 days left to get things done. 1/3-1/2 a day because we are having a big BBQ to kick off Memorial Day weekend at work on Friday (then, they send us off after stuffing us) – yahoo! But, more on that later this week, let's get down to today.
This morning before our walk, I snacked on 3 Kavli Thin Crisps (probably my favorite flavor yet!) with 1 Tbsp freshly ground organic almond butter and all natural apricot preserves.
Check out thin they are – so crispy and light, but, flavorful. I made a mini almond butter sandwich with my odd ball 3rd one since 3 make up a 50 calorie serving.
We went for a nice hour long 4 mile power walk today at lunch and it felt great. Not too hot and with a slight breeze. It was the perfect way to mix up the day and get outside. When I came back, I dug into my prepack lunch. I took my pictures this morning before leaving with the intentions of auto-posting (um, ya, it never happened :o)
I made up a Big Jump Start Chef Salad that included:
1 oz lean ham (instead of roast beef)
3 c organic romaine
1/4 avocado
1 sliced scallion
a few cherry tomatoes
2 Tbsp Newman's Own Lighten Up Cranberry Walnut
Along with 1/2 c watermelon – I promise, it's all gone now so I'll move onto some other fruit. For dessert, I couldn't resist my co-worker's offer of the BEST CHOCOLATE EVER. Dove Creamy and Smooth Dark chocolate – I had 2 squares and savored each bite as I read the cheesy "promise" quote on the inside. I swear I LOVE candies that speak to me!
My afternoon snack was 2 oz lean turkey with spinach & spicy mustard on a slice of Ezekiel bread.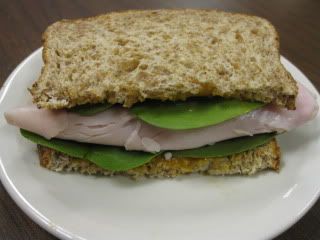 Now are you all prepared to laugh! I LOVE The Husband and his "style". We are in the process of having our driveway and city sidewalks redone in concrete. I came home to his super cool look with work boots and ALL. HOW CAN YOU NOT LOVE THIS?!
He was supposed to let the people we were paying do the work, but, being the good helper he is (see he learned well in school), he was out there helping out! I tried telling him that is why we PAY the people, but, he couldn't take just watching and not helping LOL.
The 30 day Jump Start called for a funky dinner that I honestly was just not feeling ~ Lebanese Kabobs. You can click HERE to get the recipe which sounds good, but, I think you have to be in the mood. Plus, in all honesty, I have been waiting for the book to make my favorite Biggest Loser Recipe of all time – The Almost Fast Food Burger. Since it wasn't part of the book, I decided to make up my own menu tonight for about the same calories all together.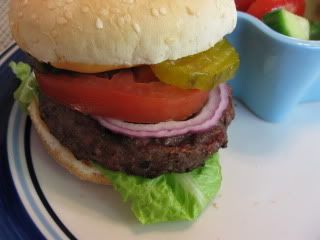 I used Trader Joe's 96% Lean Ground Beef and seasoned it with garlic salt, onion powder, freshly ground pepper and nonstick spray before grilling them up. Topped with lettuce, tomato, red onion, cucumber chips and a special sauce. The special sauce includes lowfat mayo, ketchup, spicy mustard, hot sauce all whipped together. I do NOT like Mayo at all, but, you cannot taste it in this recipe – it's like a spicy, creamy sauce.
On the side I made up an awesome Cucumber, Tomato, Avocado Salad.
2 Persian Cucumbers, sliced
handful of cherry tomatoes halved
1/2 avocado, cubed
sprinkled with garlic salt & freshly ground pepper
Drizzled with ~ 2 tsp Extra Virgin Olive Oil, 1 Tbsp White Balsamic, 1/4 tsp honey
This dinner completely hit the spot! After dinner, I made up the Banana Raspberry Cake with Lemon Cream Cheese Frosting for tomorrow. You will remember when I made it HERE for Rachel's birthday. I owed my co-worker a real baked cake and let her pick what she wanted. This is such an easy and great recipe – you all really need to try it for your next occassion – it's the perfect guilt free treat!
Speaking of treats, I didn't want The Husband to feel left out so I made up a batch of my famous Chocolate Chips Walnut Cookies.
Not quite as healthy as the cake, but, honestly – sooo addictive and delicious. I get requests to make these all the time so I know I will have to share some tomorrow too. Let me know if you want me to post the recipe and I'll be glad to share.
While all my goodies were baking, we visited with The Husband's sister, planned out our Vegas Vacation – Can't Wait! and I prepped food for tomorrow.
Phew ~ that was a long night and a long post! You seriously rock if you made it through all of that and still want more 🙂 LOL…..
I am off to catch some zzzzz's! Tomorrow is day 30 – the final day of the 30 day Jump Start and Farmer's Market Tuesday….yahoo! Too bad The Biggest Loser will not be on, but, I guess it will give me a chance to work on my BL 30-day Jump Start Book Review.
See you all l8r!