I feel like I have had the BEST food today and it just gets better with each meal. My Huevos Mexicana held me over nicely. I ended up having a "pre-pedicure" snack using one of the ingredients of my Secret Bloggie (100 cal Almonds) mixed with 1 Tbsp of TJ's Berry Blend….LOVED it!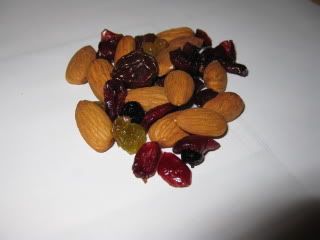 I'd show you my toes, but, The Husband said that I shouldn't walk on my blog by showing you my feet. My pedicure was awesome – so relaxing. I took my Bikini Bootcamp book along with me to read and I realized something new. There is a QUOTE on each day ~ who knew! So along with the word of the day, I'll have a quote for you too! LOL.
I have been SO EXCITED for this lunch ALL week ~ Chicken Taco Salad. The best part was that I didn't have to be wasteful – I used my leftover Mexican Fiesta eats to make up this fantastic salad.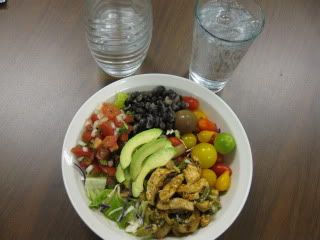 Here are all the components starting with leftover Chicken Fajitas (I may be missing a little protein since I was supposed to have 5-6 oz, but, eh, it was worth it to have this!)
Salsa Mexicana (it only takes like 5 minutes to make this up!)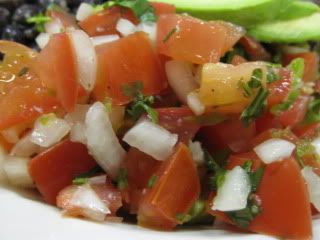 Some Basic Black Beans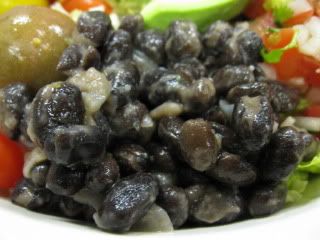 A handful of organic heirloom tomatoes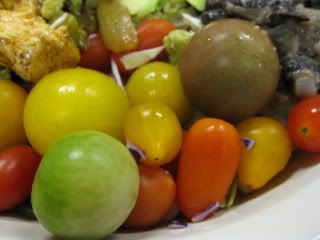 AVOCADO!!!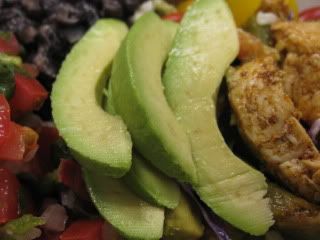 All on top of a combination of romaine lettuce, plus two types of cabbage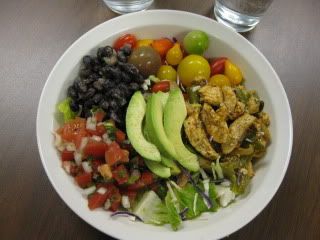 Sprinkled with sea salt, pepper and 1 Tbsp Extra Virgin Olive Oil
Absolutely fantastic!!!! I would have LOVED to added fire roasted corn and some of those Nacho Mr. Krispers….but, I stuck to my Bikini Bootcamp eats. This lunch did a fantastic job of keeping me full. I only broke out my afternoon snack because tonight is the other nephew's baseball game so dinner will be late.
My afternoon snack was perfect since I was really craving something sweet today.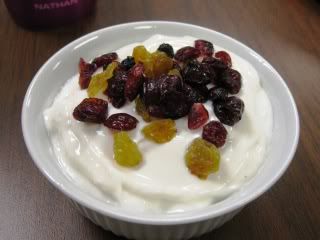 1 container of TJ's 0% Organic Vanilla Bean Yogurt combined with Trader Joe's 0% Plain Greek Yogurt to make up a total of 1 cup of Yogurt (supposed to be low fat, but, eh – whose counting!)
Topped with 1 Tbsp TJ's Berry Blend
All mixed up you get this fantastic vanilla bean thick creamy tasting yogurt with little sweet berry surprises – I LOVED it!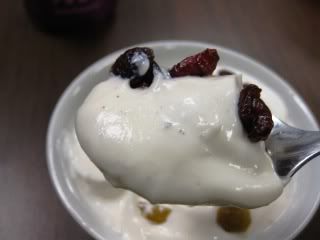 Since I won't be back until LATE tonight, I will leave you with a few fun things.
* Score some cookies for Father's day by clicking HERE and HERE (double chances – yahoo!)
* Romatic Fantasy Giveaway ~ Click HERE.
* Get your Bikini Bootcamp Book – HERE.
And of course, Mr. Krispers are calling your name!!! Click HERE. while you still have time to enter.