Are you ready for Cinco De Mayo? Have you figured out your menu to celebrate one of the best eating holidays around aside from Thanksgiving, Christmas, Easter, My Birthday, ummm….yeah, ok! Well, the recipe I made tonight was AWESOME and it comes just in time for you to make it for Cinco de Mayo!
Spicy Fish Tacos
Start off prepping your fish – place it in a shallow dish –
8 oz tilapia, or any boneless, skinless fish fillet (I buy the individually wrapped ones at Costco), thawed
1 lime cut in half, squeeze 1 half per side of the fish
Sprinkle the fish with the following on each side:
Paprika
Chili Powder
Sea Salt
Freshly Ground Pepper
Cover and marinate for 30 minutes in the fridge.
Take our a sheet of foil & spray it with non-stick cooking spray before you place the fish on it.
Wrap your fish up and place it on the outdoor BBQ that is preheated (to medium). Cook for ~ 8-10 minutes or until the fish is cooked through. Remove from the grill, let stand a few minutes and flake.
Prep your toppings while the fish cooks.
Wrap your corn tortillas (I used THESE (Green Chile) and they are my favorite of all time!!!)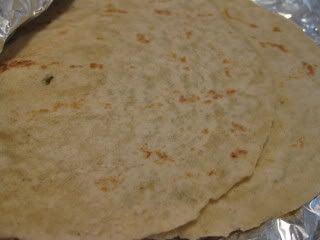 Shredded Cabbage (I bought the pre-shredded ones at TJ's to save on time)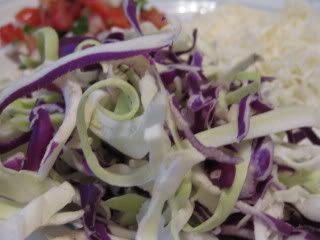 Make up your own Pico De Gallo or buy the premade version:
Diced up a tomato, yellow or red onion, jalepeno (seeds/stem removed) & cilantro
3-4 Tbsp Lowfat Monterey Jack, finely shredded (it goes further when it's fine)
1/2 avocado, diced, then, slighly smashed
You can add hot sauce or keep it on the side, but, here are all the toppings you will need to assemble your tacos (plus the grilled fish)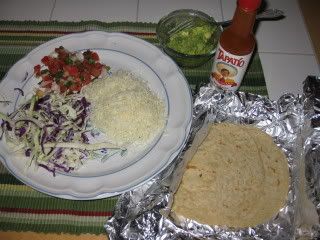 Next assemble the tacos by starting with the tortilla, then, the mashed avocado, fish, hot sauce if using, cheese, cabbage, pico de gallo.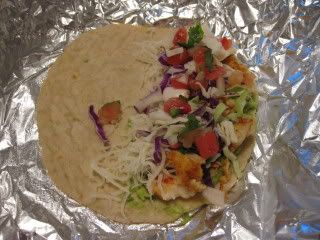 With 1 slice of lime per taco and extra pico de gallo on the side, here is what you end up with.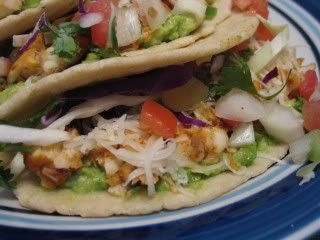 Not to toot my own horn or anything, but, these were seriously the BEST FISH TACOS I have ever had (even better than any bought)! I LOVED the creaminess of the avocado with the spicy fish and hot sauce and the crunch of the cabbage and veggies. I am not sure if I tasted the cheese so much but I liked having it there.
I honestly think even the non-fish lover would LOVE these! These could fall into my sushi love category – they were THAT good! 🙂
This dinner went together fast with hardly any cleanup/dishes – bonus since The Husband isn't here to do them. 😀 LOL…..
The only thing missing was the Corona with Lime, right? Why doesn't the Jump Start Plan allocate alcohol……hmmmmm, I wonder 😀
Just when I thought my dinner was amazing, I remembered there was part TWO! 1 cup of melon with a 1/4 cup of Vanilla Mango Swirled Fro-YO!!!!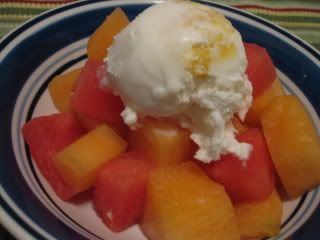 Whoever thought of putting Frozen Yogurt on Melon is a genius!!! This completely tasted like a dessert with the ice cream being like whipped cream and the mango puree tasting like a fancy syrup poured over the melon. This is definitely a dessert to remember and repeat (only 2 POINTS for those counting!!)
Did I mention that I also cooked up one of The Husband's favorite dinners and took it to him? When we went to The Carribean to get married, he LOVED this place where you get a steak sandwich. So, tonight, I made him my own version complete with BBQ Pop Chips on the side, Sweetened Iced Tea and German Chocolate Cake for dessert. Here is how his sandwich looked before I wrapped it up to take it to him.
Yup ~ I was sorta drooling because I had not made my fabulous dinner above yet. He ate it in about 5 nminutes when I took it to him so I think that means it was good. I did steal a couple of his Pop Chips to be honest with you all. I told him he couldn't bring the bag back home 🙂
If you are in the area, I received this great email from going.com about ALL THE FUN THINGS TO DO IN SAN FRANCISCO this weekend. Click HERE to check it out or search going.com for the FUN THINGS to do this weekend in a city near you. It's a pretty cool site!
Phew! I think I am all caught up now and hopefully back in your good graces. I am absolutely thrilled that tomorrow is Friday and the weekend is almost here.
I am off to catch up on all the stuff I missed today, read a bit, but, more likely than not, crash out before I get to do either.
See you all in the morning!