This morning I had fun with my Annie's snacks! I happily pulled them out of my TJ's resuable grocery bag (yes, that is my lunch bag!) 😀 and this is how they started out. I had a TJ's FF Honey Greek Yogurt, Annie's Bunny Grahams and a small pack of my Halloween Annie's Organic Berry Patch Fruit Snacks.
As I opened them, the bunnies decided to hop in my yogurt. I think they are racing ~ whatcha think?
After being trapped ALL day yesterday, I decided today was a day to definitely get outside. I pondered a run for lunch but then jumped at the opportunity to go out to Gillwood's with my co-worker. I seriously LOVE Gillwood's. Their menu is so diverse I think I could eat there every meal.
I started off with a small green salad with FF Raspberry Walnut Vinaigrette on the side. I always ask for my dressings on the side so I can control how much goes on my salad. Sometimes I pour a little on my salad and other times I use my fork to dip/eat a little with each bite. Both ways are great ways to save calories and still enjoy the savoryness of the dressing.
I sooooooo wanted to order the awesome veggie burger that I got the last time I was there, but, for the love of my blog, I ordered something new. I had a Honey Wheat Chicken Club with NO mayo plus AVOCADO. Avocado makes everything taste just that much better.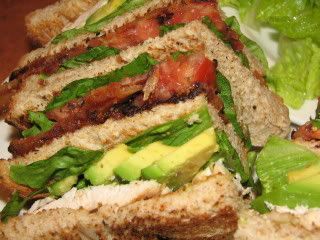 I was only able to eat 1/2 my sandwich so the other 1/2 might show up for snack or dinner or more likely than not The Husband will steal it.
I LOVE their bread so much that I ended up buying a loaf of their homemade Honey Wheat, 2 of their freshly baked buns (for veggie burgers!) and of course, my favorite Morning Glory Muffin. I am so excited to have all of these that I am not sure where to start.
Which would you pick first?
Thanks everyone for voting in the Bake Sale Poll. Now I have to decide if I am going to make just one thing, do a variety pack or what not……I will be sure to let you know what I end up doing.
See you all for dinner tonight!