Do you all remember Circus Cookies? I honestly have to say this was my absolute favorite cookie of ALL time in my childhood and even (yup, it's true) in my adulthood. I was truly saddened when my favorite cookies disappeared off the shelves last year.
Then, I heard it…..Kellogg's saves Mother's Cookies and guess what???? They are bringing them back just in time for Mother's Day – Wooohooo!!! They hit the shelves beginning May 4th so make sure you hit up your store early before they sell out!
Then, my life got even better….FoodBuzz asked me if I wanted to sample the Circus Cookies as part of the Taste Maker Program. Ummm…..ya, I didn't really have to give that one too much thought!!! When I walked in the door today, I had this super cool box
My true love ~ The Circus Cookies were waiting inside just for me with a letter confirming the Kellogg's rumor I heard ~ Yeah!!!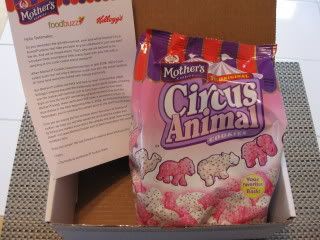 As you all can guess, these do not exactly fit into the 30 day Jump Start Plan for today….but, I promise you, I WILL be making a daily calorie alotment for these for sure!
Thanks FoodBuzz & Kellogg's ~ I LOVE you both!!!! (yes, it requires that many exclamations!!)
Stay tuned as I plan to dig in and make you drool with a review soon….You know you probably already are because you missed these little pink and white cookies just as much as me!