Happy Hump Day all! I am free, I am free ~ I successfully finished the 30-day Biggest Loser Jump Start plan with my final weigh in and measurements this morning. Drum roll please…..this week I lost 1.6 lbs, bringing my grand total weight loss to 5.2 lbs with a total of 4.25 inches lost all around my body!!! You know, I am pretty happy with this number because hello it's down and it's in the right direction. I enjoyed the processed and some treats along the way, yet, never felt deprived. But, more on my thoughts on the book, etc, coming up in my BOOK REVIEW tonight!
This morning for breakfast, I have to admit, I was a bit lost ~ like, wow, I have to think about what to eat. Yet, at the same time, I was like WOW – what do I want to have – this and that and that LOL.
I ended up deciding a simple breakfast that started with 1 WWP bowl full of farmer's market strawberries.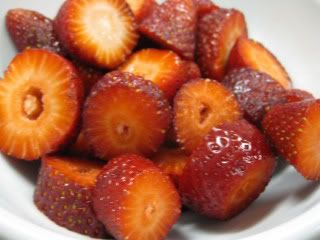 I was completely craving almond butter – I knew without a doubt, this would be part of today's plan. I had 2 Kashi Strawberry Flax waffles with 1 Tbsp freshly ground almond butter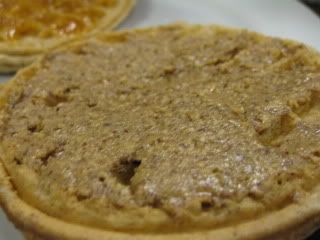 and 1 Tbsp natural apricot preserves.
All smoothed together to make a 6 WWP wafflewich – how I missed my wafflewiches!
We didn't have any water at work this morning so someone was nice enough to bring in big jugs of Starbuck's coffee ~ yeah! I filled up my cool cup with some 1/2 decaf and 1/2 hot water since it was soooo thick and strong. And my "empty" Nathan Bottle. This breakfast totally hit the spot.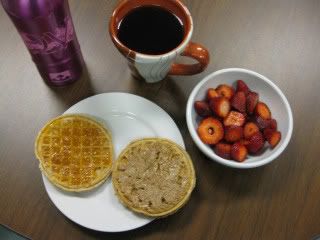 How cool are the Sonoma Crisps Peeps? Not only has Hikari started an awesome blog that is FUN to read, she posted an awesome post today about my Sonoma Crisps Review!!! Click HERE to check it out ~ My blogging friends – Be sure to check it out and read all the way to the bottom! Thanks so much Hikari – you're awesome beyond words!
TODAY'S TON OF FUN STUFF:

GIVEAWAYS:
* This is a giveaway you might want to pass on because well, I WANT it. Click HERE to enter Amanda's Nut butter Giveaway.
* Missy is having another giveaway – click HERE to enter to win some Rudy's Bakery Goodies!

* Win a free year of Women's Health with Simply Bars. Click HERE.
* Coconut Bliss Ice Cream – YUM! Click HERE to enter to win a coupon for a free pint!
FREE SAMPLES!!
* My absolute favorite freeby site, Walmart is having a host of FREE samples you can have emailed to you. Click HERE to check them out and get yours!
* Wanna have a Fling?? Click HERE and then click on special savings to have your FREE Sample coupon mailed to you for this Naughty but not so Naughty Chocolate Bar.
Ok ~ That should keep you all busy for awhile! I am so glad the week is half over and we are on the downhill side towards our LONG weekend ~ Yeah! Catch you all later today.