Today I kept thinking it's almost Friday, it's almost Friday – 3 1/2 day weekend – wooohooo!! Since my brain was already in vacation mode, off we went to AAA today at lunch to pick up some books and maps. We are taking my Sister-in-Law and her hubby to Las Vegas and possibly the Grand Canyon next month – I can't wait!
Rachel and I were completely on the same brain wave length today. After running to AAA and to Target to buy fun stuff, we both were like – "what do you have for lunch?" She eats the same thing everyday – I don't know how she does it. In my mad rush, I threw in stuff to make a sandwich with hummus and veggies. Then, on thought…we are right next to the cheap "sushi" place – let's get take out!
We both ordered a Hawaiian Roll – Spicy tuna with cucumber, avocado, Tobiko and spicy sauce – so awesome!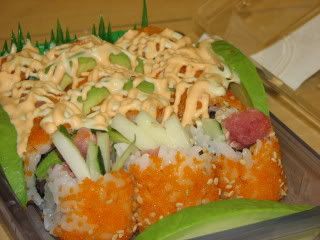 And we shared an Avocado Rice Wrap Roll Up Thingy ~ Yes, that is exactly what they call it on the box 😀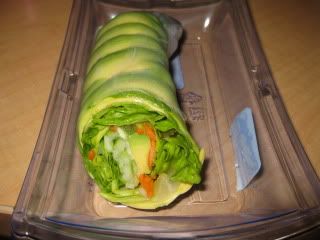 Avocado makes everything better, doesn't it?! It was the best lunch and all for under $10 – woohoo!
My lunch held me over for a long time. Until….we stayed late and traffic was once again awful! My 11 mile + 7 mile drive to my co-workers house took 1 hour and 15 minutes ~ugh! I seroiusly had thoughts thinking I could walk and run it faster. Ok, I know this isn't the case, but, still!
After I dropped off my co-worker, I stopped at the local Farmer's Market by our house. I am on a quest for nectarines. No such luck, think I need to try on Saturday. I did pick up two packs of these awesome looking tortillas.
I was STARVING by the time I got home at 7:15 and ended up switching from my planned BBQ Chicken Avocado Wrap to Black Bean, Corn & Avocado Burritos. I took out a baggie of frozen beans I put in the freezer when I made them a few weeks back. Dinner was ready in 10 minutes – woohoo!
All wrapped up and ready to go! The Husband cut up the avocado – I LOVE big chunks of AVOCADO!
I also learned an important lesson tonight. You know how I freeze everything? Well, in my haste to not waste (hey, that rhymes!), I froze a 1/2 a butternut squash in hopes that I could cook it up later. I popped it in my microwave steamer with some water and cooked it for 8 minutes. Here was the result sprinkled with a little sea salt:
Absolutely nasty! It was totally soggy and watery and just plain ick! So, if you are ever thinking to "freeze" that butternut squash, I wouldn't recommend it! 😀 Just go ahead and cook it up!
I came home to the coolest surprise ever, however, The Husband made me wait until after dinner to open….My surprise is up next!