Have you all ever heard of The Mystery Spot in Santa Cruz, Ca? It is a pretty cool Phenomena. If I knew how to upload You Tube Videos, I'd do that, but, since I do not yet, here is a link to a quick 2 minute video that you can watch.
http://www.mysteryspot.com/video.shtml
There is a great story behind The Mystery Spot and it has been featured in Life Magazine and Ripley's Believe it or not. They say there is this huge circle that surrounds this hill and the centrifugal forces cause things to stay permanently slanted even though everything you use shows they are level. The tour guide even uses a level throughout the tour to show you things are level. The original owner had actually built his tool shed on the hill, but, it shifted and became permanently slanted on the hill.
Below you will find some highlights of our tour ~ You can click any of the thumbnail pictures to make the larger.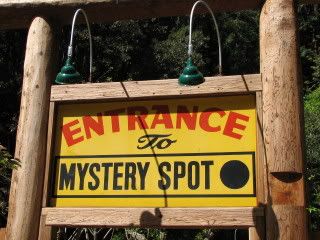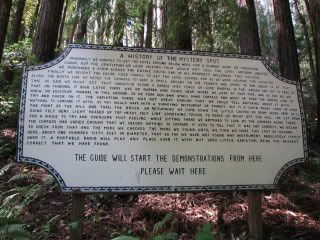 This is the tilted Tool Shed and what happens when you walk inside. Believe it or not, we are standing straight up, but, it doesn't look like it at all.
And standing on the walls (me!) and "Spider Man" (bet you didn't know you'd find him here)…lol…..
Now ~ THIS was super cool! She took out this board and first rolled a pool table ball on it, but, it rolled off it going up hill. Then, she took my lip gloss and it did the same thing. It wouldn't roll down hill for anything. The same thing happened with the pendulum ball that The Husband was playing with in the second picture – it stayed elevated. I wish I captured it on video (yes, we had our Flip cam with us but forgot to break it out – booo!).
As you are standing outside the tool shed on the level hill, they can make me and my 5'6″ self look taller than a 6′ guy. Standing in the line up from 5'4″ to 6'1″ and then, when, we switch places, the 5'4″ girl and I are taller then everyone.
It is definitely worth the $5 per person to take the tour. Plus, the added bonus, you get a cool bumper sticker 😀 The Husband also added to our penny collection (we make these whereever we go)…..
Pretty cool, right? I am telling you, if you are ever in Northern California near Santa Cruz (and The Beach Board Walk) – this is definitely worth the short 45 minute tour.
After touring The Mystery Spot, we headed to downtown Santa Cruz for some shopping off Pacific Avenue. The Husband scored a chip for his casino chip collection at an Antique Shop and I bought some cool stuff at a store I've never been to, Chefworks. I could have easily spent hours in this place, but, left with only a few things…..
I was determined to at least stop by The Boardwalk, but, we were pretty tired by this point. I managed to snap a few pictures as we drove by looking at all the people on the beach and the rides.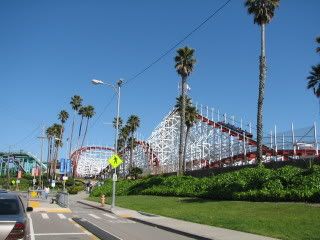 If you want to check out more pictures, you can stop by our picture site (http://jayanddanicasadventures.shutterfly.com/), however, like my blog, I am still working at organizing all the pictures.
We had such a fun time and if you are still reading after My Marathon Post and this one, you serioulsy rock!
MY LAST COOL ANNOUNCEMENTS OF THE NIGHT:

It's here, it's here, it's finally here!!!

Tomorrow is the BIG DAY for Meghann's second Blogger Bake Sale!!!
Please be sure to check it out beginning tomorrow at 8 AM as I will be making a super cool Bake Sale Package (Girl Scout Samoas PLUS Mock Tag-A-Longs PLUS any dessert item on my blog you want with any type of chocolate you want (vegan, milk, dark, white)!) Be sure to support Meghann and bid for these goodies tomorrow!

You can get all the details you need to know to bid by clicking HERE!!
AND be sure to check out my AM post as there will be another ANNIE'S GIVEAWAY to help support Meghann's bake sale. It will be pretty simple to enter, but, if you are a blogger, you can get bonus entries.

See you all in the morning with the Giveaway Details and the kickoff of the Bake Sale Fun! I can't wait……Phew! Night…