Hi all!!! We had such a blast today on our trip to Santa Cruz. Since I have so much to share and since I was away from blogging ALL day, I am going to post everything in two posts. The food will be first followed by the fun. I am sure you won't mind, but, I do think you will be a total champ for getting through reading both Marathon Posts. I hope you all enjoyed your weekend as much as we did.
** I posted all the pictures as thumbnails – just click them if you want to enlarge them.
This morning before we headed out, I packed up some snacks to take (that we didn't even really eat) and of course breakfast. I wanted a portable breakfast so I broke out 2 Kashi Strawbery Flax Waffles and topped 1 with 1 Tbsp Naturally More Peanut Butter and the other with 1 Tbsp Organic Apricot Preserves. These preserves are so fabulous because they have NO ADDED Sugar and are sweetened with organic apple juice. This absolutely hit the spot ~ I am already thinking of how I can work this "repeat" into the blog.
I also had a Grande Iced FF Decaf Latte with caramel drizzle on our drive to The Mystery Spot in Santa Cruz. After the tour, I snacked on a banana.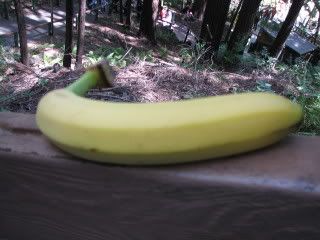 We headed into downtown Santa Cruz to do some shopping after touring the Mystery Spot (which BTW – is so cool, but, more on that in a bit). We finally stopped around 2 for lunch at Hoffman's Bakery & Cafe. This was such a cute place where you can dine inside or outside. To our surprise, the place was still packed even though it was after 2 pm. We decided to sit inside versus waiting for an outside table to open.
The Husband ordered a Turkey Avocado club with a side salad and a Raspberry Italian Soda (which they left the cream out so it was more like a Shirley Temple? lol).
I had probably one of the best vegetarian sandwiches I have ever had ~ A Caprese! It had huge chunks of fresh mozzarella sprinkled with sea salt, basil, tomato, organic greens, homemade balsamic dressing all on top this fancy french bread. I also had a side of organic mixed greens with balsamic dressing on the side~ So good!
I managed to save room for FroYo…..this place is soooo cool! It is seriously my dream frozen yogurt/ice cream place because they left you put whatever and how much toppings you want on. You simply pick your yogurt and go to town. Of course, you know me, I can't make a decision for the life of me, so I had a little of everything.
1/2 vanilla froyo topped with white chocolate chips, strawberries, pineapple, mango
and
1/2 chocolate froyo topped with recess, skor, butterfinger, and a few rainbow sprinkles.
Believe it or not ~ this was actually the small! It was so amazing, but, I think I decided I liked the vanilla best.
After our shopping expedition and drive by The Boardwalk, we headed home. The Husband has never been inside a Whole Foods (believe it or not since I have an insane addiction). We picked up an Organic Strawberry Synergy drink to share on the drive home and made up salads for dinner. This drink reminds me a bit of fizzy water with juice, but, it has sort of a beer or wine cooler taste. It's not bad, but, we only managed to drink about half together.
I will spare you all the list of everything I put on my salad since I am not sure I remember it all, but, show you the pictures. I topped mine with Blackberry Balsamic Vinegar with Pear. I also had a bite of The Husband's hot stuff (spagetti, lemon/tomato pasta, roasted veggies) and 3 chicken wings (2 Hawaiian & 1 buffalo) for a little protein. I didn't eat the falafel – it was sooooo dry.
Whew ~ Now I know why I post it all as I go along 🙂 Ok….next up is a post about all the fun we had in Santa Cruz.