I seem to be hungry today no matter what I eat. I woke up with my stomach growling during Yoga. I came back from our 4.5 mile run today starving. I had to decide between the Vegetable Gyoza with Edamame Succotash (I think I could eat this every day!) and the Amy's Vegan/Gluten Free Teriyaki Bowl I bought for our challenge week. For the sake of the blog, I decided to go with something new and have the Amy's Bowl. I only eat Amy's or Trader Joe's frozen meals when I do because you can recognize ALL the ingredients and they are not all chemically made like most frozen meals.
Here is one of the articles I read in Women's Health awhile back as to what is really in your frozen dinner – you will be shocked by how they "make" the ingredients in them. It really helped me to say no way to any other meal, especially the healthy versions.
http://www.womenshealthmag.com/nutrition/whats-in-frozen-dinners?layout=print
Ok back to lunch ~ I LOVE pretty much all of Amy's meals. This was so tasty and very filling. Check out the label and you will see she makes a pretty clean meal with no funky ingredients.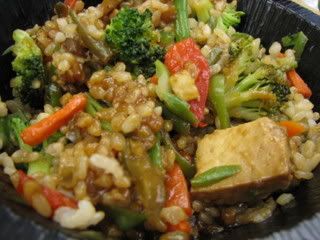 I had it with another huge Organic Fuji Apple & Edamame. I also made a POM spritzer using my Penguin Fizzy Water and blueberry/pomegranate juice. YUM!
My morning snack was a small packet of lightly salted cashews from Trader Joe's (not pictured). Now I am anxious watching the clock for my afternoon snack…….a Vegan Cupcake and decaf coffee or tea…..mmmmmm, can't wait!