Today has been a fantastic day of getting things done – I haven't had a chance to make it back to the computer until now. I started off by shopping at TJ's and a local store to get our eats for the week. I came across some favorites and a couple of cool new finds at Trader Joe's that I wanted to share with you all.
I LOVE that Trader Joe's will open any product and let you try it before you buy it. I asked if the "Righteous Rounds" were any good and sure enough he opened them for me to try. Look at how cute they are – they are definitely mini cookies about 1 inch: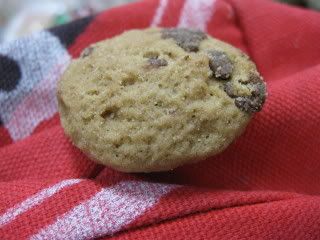 I was honestly really intrigued by them because they are NOT BAKED more than 75 degrees and they are made using fruit and vegetable concentrates. Check out the ingredient list: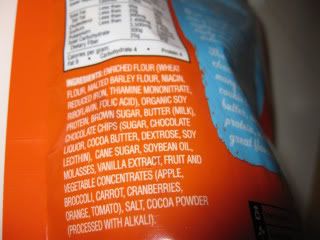 They are pretty tasty – crunchy, chocolately and you can taste the brown sugar! I was shocked – for 140 calories you get 5 cookies. They are more of a treat though than something that will sustain you even with the 3 g of fiber and 4 g of protein they pack. It's my way of sneaky in a healthy treat for The Husband and he won't know it 🙂
I bought two of my favorite chocolates – the 100 calorie dark chocolate bar (I took one out so you can see the size) is only 2 pts for the entire bar! I also bought the regular 72% Dark Chocolate bars that are 4 pts for the entire bar – yeah! I figured I will be prepared with some healthy anti-oxidants the next time a chocolate craving hits (bad, M&M's, bad!) More on the banana chips in a second.
For lunch, I made up the BL Jump Start Smokey Sausage Lentil Soup. I added some Habanero Tabasco to give it some heat and used the Amy's Pepperjack Chicken Sausage I had on hand. It was pretty tasty and makes a ton so I definitely will be freezing some.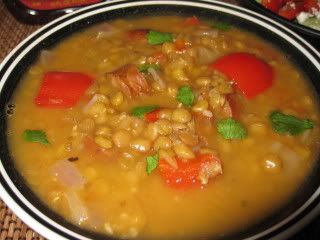 And a side salad with Newman's Own Lite Cranberry Walnut dressing. I liked this dressing, but, the herbiness was a bit over powering and you couldn't even taste the walnut part. It has a nice sweetness to vinegar ratio though without being too sweet or tart.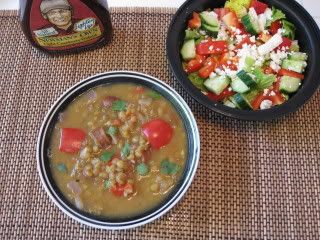 I decided I wanted something sweet after and broke open the bag of Freeze Fried 50% less fat banana chips. I was surprised to see how poofy they are.
They taste nothing like the real deal. They are super crunchy but just eh ok. I probably would not buy them again and I had no problem stopping at 2. The Husband agreed as well.
Next up…..Diva Night!!!