I started off my morning with a new 30-day Jump Start recipe that I made up last night. I have to say I was a little skeptical when I first saw them come out of the oven, but, you know what, they are quite tasty.
Baked Eggs in Savory Turkey Cups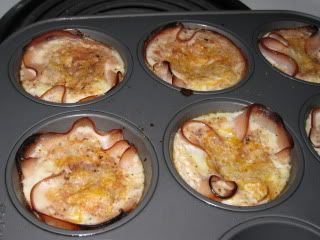 These are soooo easy to make. I made a half batch last night and heated them up this morning. Click HERE for the recipe.
I served up two delicious turkey cups this morning without the cilantro – I forgot.
Along with 1 c of awesome Farmer's Market Strawberries. I can't wait to get more today!
All together with 8 oz FF milk and some decaf coffee in the Hooray! mug.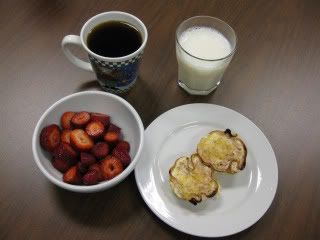 Today is the last day of the 30 Day BL Challenge – yahoo! I am sadly going to miss having everything planned out. But, I promise a full book review and final WI coming tomorrow.
I seriously rocked yesterday's stats and had to share:
Calories burned: 3,263
Steps taken: 16,312
Calories Consumed: 1,520
TODAY'S FUN NEWS:
Did you all know that Trader Joe's has seriously helped to make your shopping list easier? On their website you can find a listing of everything that they sell based on your preferences.
* No Gluten, Fat Free, VEGAN, Vegetarian, Heart Healthy, Quick Meal, Kosher. Click HERE to download the list you want. How cool is that?! Just another reason I LOVE you TJ's!!!
* Today's Fun Giveaway – Do you LOVE Salsa? Check out Julie's Salsa Givesaway – enter by sharing the most creative way you use it. Click HERE and be sure to tell us what your idea was….hint, hint, I used it this morning in my breakfast cups.
Have a Terffiic Tuesday all! Today is insanely busy, but, I will check back as soon as I can ~ TTFN!