Today was the day we have been waiting for ALL week ~ our visit to Ubuntu Restaraunt & Yoga Studio! No, this visit wasn't for Yoga, but, for some of the tastiest Vegan Food I have ever had in my life. I can definitely see adding this to the list of places I'd love to do Yoga though too. I was a bit skeptical after scouring the menu and honestly thought I'd be leaving there hungry. We had the best time today ~ from the awesome service from our waiter, Jeremy to adventuring out into new foods to visiting with the tablemates next to us. Thanks for sharing with us, ladies! I have to say we probably corrupted what they ordered a bit, but, the food was THAT good, we had to share our thoughts. But, more on this in a bit.
I LOVE everything this place stands for and represents. Ubuntu translates to humanity towards others. Our waiter gave us a great brochure (and our very own menu, lol) that explains all about the Ubuntu Idealogy.
Everything they serve at Ubuntu is organically grown in their own biodynamic gardens or grown locally. Anything you see on their menu that is in ALL CAPITAL LETTERS is grown in their very own gardens. Everything else is grown locally.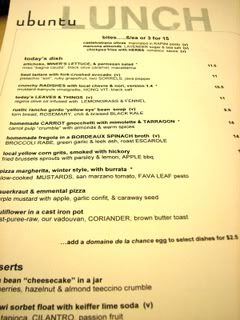 Inside the restaraunt it looks so cool. Here are a couple of pictures that we took, but, they really do not do it justice. The Yoga studio is upstais while the restaraunt and their general store are downstairs.
I ordered a freshly squeezed lemonade and here is everything we tried today. They give you the option of making almost every dish on the menu vegan, although about 1/2 of them already are vegan.
We started off with an order of Chickpea fries with Herbs and romesco sauce. These were by far one of our favorite things ~ I think we could've had two orders, they were THAT good! You can really taste the herbs and sea salt with the crispiness of fries. The romesco sauce is like a sun dried tomato spread.
Then, we moved onto the rustic rancho gordo yellow eye bean soup. This just might be the best soup I've ever had. It is similar to a spicy minestrone and the crunchy vegan buttery croutons rock!
I am not a huge fan of gnocchetti, but, I have to say our next entree had a beautiful presentation and it was really esquisite tasting. They use an all purpose white flour and carrot juice to make the gnocchetti and serve it with roasted carrots and fresh baby carrots. It was absolutely delish.
Up close:
And this tasty little roasted carrot on the side. It is a special carrot but I cannot remember the name.
We followed this dish with the homemade fregola in a bordeaux spinach broth. I personally thought this dish was tasty and loved the leek ashes (roasted leeks), however, my co-worker wasn't too fond of the leeks or the flowers. I managed to finish it off without a hitch!
The last dish we decided to sample was the pizza margherita, winter style with burrata. We had them veganize it. My co-worker was a little shocked by the bright green pesto, but it really added a nice flavor. The pizza was tasty and the crust might have been one of the best parts. I honestly think the non-vegan wouldn't have been able to tell this was a veganized pizza. This is the one dish that they serve up that is really meal size. We each had a piece and I can't believe I forgot my leftover box!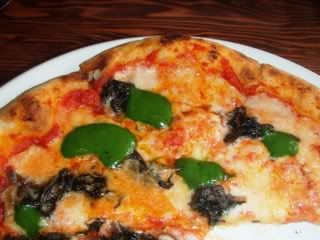 I am so glad we split everything above and that it is all served Tapas style – in small portions. We were a tad bit full, but, we knew we couldn't go without having dessert. I was sooo excited when I saw they have mini vegan carrot cupcakes. I knew I had to compare them to the ones I had just made this week. Arn't they cute?
I think having our cute waiter made them seem even better. My co-worker insisted on taking this picture – ack!
Now, I have to say these cupcakes were actually pretty awful. The description on the menu sounds delish "vegan cupcakes with pistachio & tiny candied CARROTS". However, their, tofu-cream cheese frosting was bleh! It tasted like sour cream and it wasn't sweet at all. Even with the frosting remove there was alot of nutmeg and clove in these little cupcakes. Out of everything, this is the one thing I would never order again.
We did manage to trade one of our cupcakes with the table-mates next to us to try the Marcona Almonds with lavendar sugar and sea salt. I am not a lavendar fan at all, but, these were tasty -they were salty, sweet, roasted almonds with a definite taste of lavendar.
We had such a fun time ~ good food, great service and fun people. Everyone that works there seems so passionate about what they do and I LOVE that. We will definitely go back as there was STILL more things we wanted to try on the menu. Now I am off to nap with a full belly ~ just kidding. The Husband has something fun planned for tonight so I might not see you all until the morning. Happy Friday!!