I have been waiting ALL week to make a fun Friday night dinner for The Husband and I. The key was to get him to buy off on having a veggie only pizza (he didn't need to know the VG/GF part). He was actually all for it and helped put everything together, including going to the store to pick up a few last minute things. I had 1/2 a banana bread Lara Bar for my afternoon snack while we were out (not pictured).
While cooking dinner, I made myself a juice spritzer using some Calistoga Lime Fizzy Water and Pom – Blueberry/Pomegranate Juice – Yum! This made me feel so healthy drinking it and The Husband kept stealing my drink.
The Husband made us cute salads – I LOVE how he chops vegetables – it always makes me smile. Arn't they guy like?
Now onto the Pizza!
We started off using Bob's Red Mill Gluten-Free Pizza Crust. I added a little garlic salt and italian seasoning to the mix to flavor the dough. I substituted ground 2 Tbsp ground flax seed and 6 Tbsp water for the eggs. I sprinkled a little garlic powder on the dough before pre-baking it at 425 degrees for 9 minutes.
While the dough was rising, The Husband chopped away getting the pizza toppings ready. We cooked all the vegetables on the stove for about 5-7 minutes to get the water out. This is so important so that they do not make the pizza soggy. My favorite pizza sauce is made by Roni and the recipe is here. This sauce is so amazing, even just on pasta or bread. I freeze it in 1/2 cup servings and just take it out of the fridge as needed. I ended up buying some store bought sauce because I couldn't remember if the sauce I made was vegan or not – I am so glad to know it is after checking the recipe.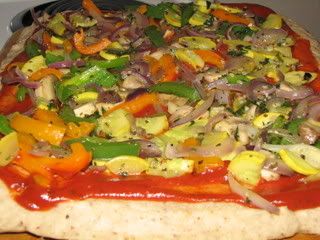 The vegetable mix included:
1 summer squash, quartered
1 red onion, thinly sliced
1 green & 1 orange bell pepper thinly sliced
1 1/2 cups chopped mushrooms
2 cloves minced garlic
small handful chopped basil
1 teaspoon dried italian seasoning
1 pinch crushed red pepper
dash of sea salt and freshly ground pepper
1 tsp EVOO
After adding the pizza sauce and and veggie mix, we topped it with Veggie Shreds Mozzarella and olives. This cheese is so good you can't tell it's Soy.
After baking it for 15 minutes, we topped it off with some halved organic grape tomatoes and freshly chopped organic basil.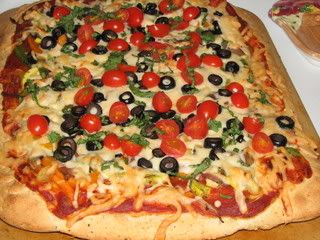 Here are my 2 gigantic pieces that I "almost" couldn't finish. This pizza was seriously so amazing, you couldn't tell it was Vegan. When I ate the crust by itself I could sorta taste the gluten free part and I didn't finish my crust since I was full at that point.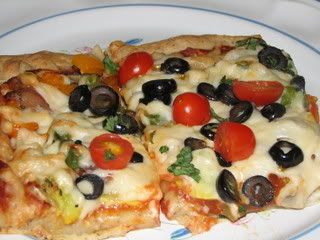 I am more than satisfied and off to watch a movie with The Husband. I am sad that I think I will be too full for that Chocolate Soy Ice Cream, but, I'll be sure to let you know if that changes. 🙂
Night all!