I decided tonight was the night for my big finish ~ The Grand Finale of ALL the Bake Sale Trials. I had so much fun making everything, but, honestly, I am so glad to not have to bake again til bake sale time. lol. S
tay tuned either tonight (most likely tomorrow~ I am exhausted) for my Grand Finale Recap with all the things I baked tonight plus in the past. I am going to put up a poll for everyone to vote for their favorite items as well. It will be fun to see who votes for what based on who actually tasted it or who likes the pictures the most.
After baking all afternoon/evening, I finally decided to break to feed me. I wanted something fast and simple plus I didn't want to go anywhere. I have everything on hand to make up another batch of the Vegetarian Times Vegetable Gyoza with Edamame Succatash that I made awhile back. This tasted just as good if not better than I remembered and it definitely hit the spot. I needed some salt to offset all the sweet stuff I was making for sure. I served it up over some steamed spinach and ate about 75% of what you see here.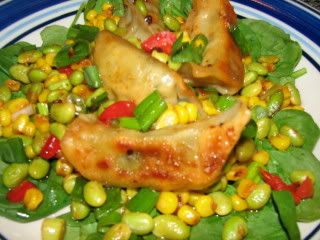 I also broke out another serving of the big salad I made up a few days ago for The Husband to have with his dinners. Would you be surprised if I told you I am like the only one eating it? He did eat an entire pork loin the first night (yup, 1 lb) but no veggies *sigh* such a boy. I used Trader Joe's Spicy Peanut Dressing with a few dry roasted peanuts on my salad.
My entire dinner was both vegan & vegetarian, yet, it kept me full for hours. This is definitely one of my favorite go to meals and it is honestly so good for you with all the veggies and protein you get.
Did you know you can easily steam your spinach in the microwave by simply putting 2-3 cups on a plate and sprinkling it with water. Then, microwave for 1 minute and tadah! Easy, right?
Ok ~ I am off to maybe do my recap or read, but, most likely I will probably fall asleep before either happens. Chat with you all in the morning.