I was not really looking forward to my snack because honestly 1/2 a cucumber (no matter how it is sliced) topped with lime juice and salt isn't going to fill me up, especially on my bottomless pitt hunger day.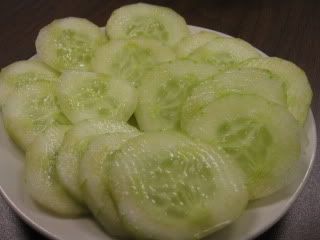 I waited 15 minutes and I was still hungry, so I snacked on a few TJ's Organic Wheat & Flax Crackers. I LOVE these tasty little crackers. I had this x's 2.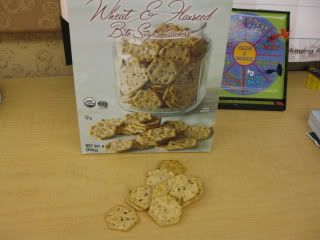 The nutritionals are not too bad and I LOVE that they are fairly clean (you can recognize every ingredient!)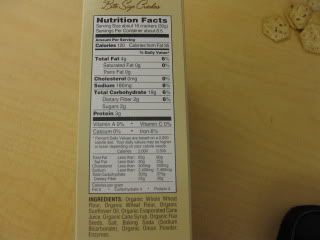 This snack did an excellent job holding me over until I ate dinner – 4 hours later. I was a nice wife and took The Husband dinner since he didn't have lunch and had to work late. Nope he didn't ask or mention it, but, I knew he was having a rough day so I thought I'd try to make it a little better.
When I got home, I wasn't feeling the FISH dinner that was planned for tonight. I swapped it out for last night's dinner ~ Sopa de Lima (Lime Soup) and Chicken Stir-Fry.
Sopa De Lima
Makes 4 servings, 0 Weight Watcher Points
1 Tbsp Extra Virgin Olive Oil
1/2 large onion, chopped
1/2 green bell pepper, chopped
1 large zucchini, chopped
2 large roma tomatoes, chopped
1 celery stalk, chopped
2 garlic cloves minced
Freshly ground pepper & salt to taste
1 32-oz chicken or veggie broth
4 limes, cut in half
Organic Unsweetened Coconut Shredds, optional
Heat the oil over medium heat and add all the veggies cooking until soft, about 4-5 minutes. Add the limes, pepper and broth just enough to cover the veggies. Bring to a boil, reduce heat and simmer for 15 minutes. Serve with a sprinkle of coconut.
This is what it looks like before I covered it up with broth – so cool – I LOVED the lime addition.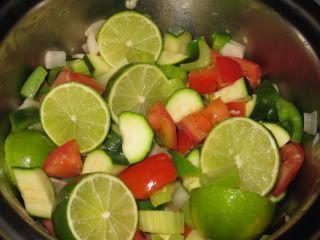 I liked this soup – it really tastes like lime the longer you cook it. The coconut gave it a nice hit of sweet tropicalness (yes, it's a word!)
Chicken Stir-Fry over Cole Slaw Cabbage
Makes 1 gigantic serving, 8 Weight Watcher Points Each
1/2 Tbsp Extra Virgin Olive Oil
1/2 Tbsp Sesame Oil
1/2 onion, chopped
1 Tbsp peeled, minced ginger
1 garlic clove, minced
1 small head broccoli, chopped with the stem peeled and cut into spears
4 small button mushrooms, sliced
1 stalk celery, chopped
2 Tbsp Trader Joe's Island Soyaki
4 Tbsp TJ's Organic Chicken Broth
1 4-5 oz chicken breast, cut into 1 inch pieces
1 cup shredded cabbage cole slaw
Freshly ground pepper
Sriyachi Sauce, optional
Heat the oils in a skillet over medium heat. Add the onion, garlic and ginger cooking for about 4-5 minutes. Add the veggies, broth, soyaki sauce and black pepper cooking for another 2-3 minutes. Add the chicken and cook 5-7 minutes or until the chicken is done. Serve over cabbage mix and top with Sriyachi Sauce to add a little heat.
The recipe actually called for Napa Cabbage but I picked up this cole slaw blend since it had more color. For the photogenic quality 😀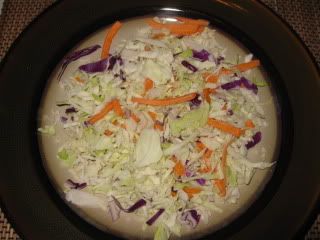 Topped with my BIG stirfry.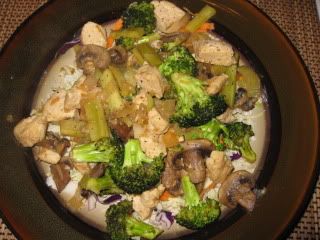 I felt like it needed more color – like red….enter my favorite Asian Hot Sauce Sriyachi.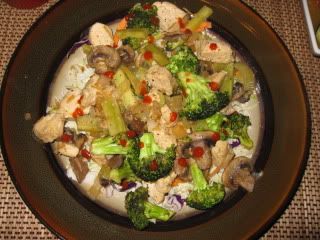 All together this was an amazingly filling dinner for only 8 Weight Watcher Points! Dessert was a baked pear, but, I wasn't even hungry – finally!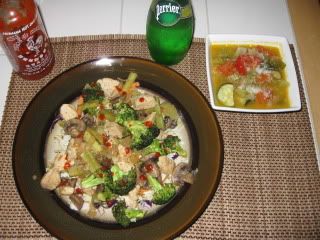 After dinner, we headed out to check out new fridges. I am SOOOO BEYOND EXCITED to share with you the one we bought! We bought a Kenmore 2 door with the freezer on the bottom. Click HERE to check it out and scroll through the pictures to see the insides. It really made me feel better when I had to toss ALL our ice cream and froyo because they looked like this 🙁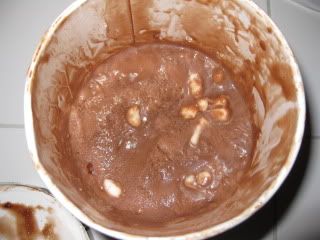 I actually cannot believe we were able to salvage about 2/3 of the stuff in our freezer. I guess having it all packed together keeps it cool for awhile. We have officially stuffed our other freezer so I am sure I won't be able to find anything now 😀 Our new fridge comes on Wednesday – yahoo!!! I'll be sure to take more pictures to show you all up close.
Alright ~ 5 AM is going to come super early so I need to get….but, before I go, here are a couple of giveaways you NEED to check out.
* Jenny is having her 300th post celebration giveaway – Click HERE to check it out.
* FatFighter TV is having a super cool Kernel Popcorn giveaway – Click HERE to check it out.