I value ALL my readers and their opinions. With that being said, I need your help.
As you all know I am a HUGE Biggest Loser (BL) fan and I LOVE pretty much all things related to The Biggest Loser. I think Jillian rocks and Bob, well, it just depends ~ some days I like him other days I am not so sure. I have pretty much every BL book, dvd, etc.
Last month I came across the latest their newest book, "The 30-Day Jump Start".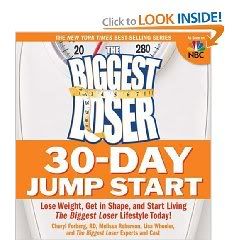 I really LOVE the concept of this book. It gives you something to work on each day ~ mentally, physically (cardio & weight workouts), plus a recommended meal plan. The food and workouts look great and I will definitely be reading this book from cover to cover.
I am thinking it may not be realistic to follow 100% of the meal plans as some of the things I do not eat. This is where I would think you could mix/match using some other ideas or recipes in the book but overall staying within the daily calorie intake. Maybe stick with everything from breakfast through the afternoon snack and mix it up for dinner. I would be willing to take before/after pictures, measurements and my weight to share my results for the full effect. I will post my daily calorie intake, calories burned and WW points as well. I would love to have you all play along in the fun or just encourage me along the way.
Another option is I can just review the book and share ideas as I go along with picking and choosing what I do. In this example, I would basically use the workouts mainly with some of the ideas in the meal plan.
Here is where you all come in. Are you up for a 30 day transformation to get ready for the cute, smaller spring/summer clothes? I want to know if you would be interested in having me follow this book for 30 days (let's say beginning April 1st) and/or if you would be willing to participate with me? I want to keep the content of the blog fun and interesting, so please feel free to be real with me and give me your honest thoughts.
P.S. I bought my book at Sam's Club, but, feel free to click on the amazon link on the right to buy it there. I get credit for the sale which is always fun too 🙂