Today was awesome ~ seriously! Ok, well, maybe not the two hour training session I had to give, but…that's just work. I wait ALL year long for the local gym by my work to have their summer special $1/day – you can't beat that. It's such an awesome gym and I absolutely LOVE it but can't justify their regular membership fees when we have a home gym AND a local gym near our house that is like 1/8th of the price for more 🙂
Before heading off to Spin Class, I snacked on a slice of the High 5 Bread I got at the market yesterday with the last of my Artisana Organic Raw Cashew Nut Butter Sample ~ so good! I LOVED it every time I came across one of the BIG dried blueberries. The cashew butter was so creamy and added the perfect sweet nuttiness to the bread.
Spinning rocked, but, WOW, I could absolutely tell that I have not done it since October of last year. I came back from class starving and ready for my "COOL" lunch.
I took the leftover Caprese Pasta Salad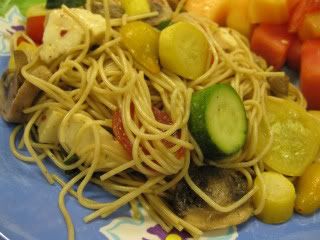 And mixed in the leftover squash
AND topped it with some Blueberry Benissimo Balsamic Vinegar ~ delish!
Dessert was some cool, crisp, refreshing cantaloupe and watermelon.
Lunch was completely satisfying with a big cup of Penguin Fizzy Water! LOVE that machine ~ one day I WILL own one!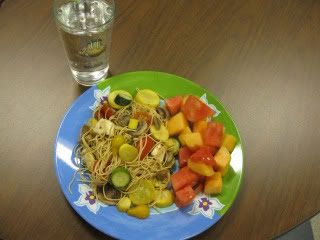 I had a super cool patriotic snack planned (Greek Yogurt + more berries!) And THEN, I heard it….the announcement that haunts me every month ~ It's time to celebrate birthdays with…..you ready for THIS a strawberry banana cake topped with fresh whipped topping! I told myself I could go and be supportive, sing happy birthday and run the other way fast….But, when they cut the cake open and I saw the middle it was all over ~ I caved, I had a CORNER piece (b/c that's where ALL the frosting is) and didn't EVEN think about taking a picture until my co-worker asked me if I did ~ Whooops! It was an awesome cake – so glad I went to spinning to earn it *sigh*
When I got home, I was super excited to see how they are re-doing the new layout of our front porch and steps ~ so retro and so fun. Can you all visualize what this will look like filled in?
Yup ~ that cute little post with the mailboxes on it ~ that would be The Husband making sure the mailman knew where to put our stuff in the midst of our construction zone. We are currently trudging through dirt to get into our house through the back door ~ fun times.
After "HIKING" to the back door, I came across a SUPER cool surprise waiting for me from my "Friends in Fiber ~ Gnu!"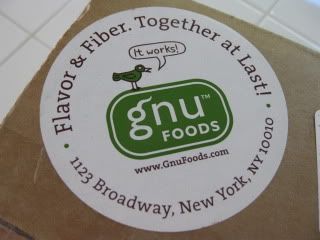 Check out ALL the fabulous bars they packed into my box!
I have been dying to try out ALL the flavors in these 100% Natural, CLEAN, Low Calorie, High Fiber Bars! The BEST part is that depending on the flavor, majority are only TWO Weight Watchers Points each!! * You can click on any of the images below to make them bigger.
REVIEWS & a GNU GIVEAWAY COMING SOON ~ translation – starting tomorrow!!!

Coming up next, another fun, healthified dinner recipe!