One of my most favorite people in the whole wide world (and a super awesome friend if I do say so) introduced me to this recipe a long time ago. It is a Weight Watchers recipe from one of their cookbooks (I think Take Two or something like that – meals for two). Since I completely lack the ability to stick to a recipe, I will show you all how I made it with my modifications included.
This entire recipes goes together in a matter of 15-20 minutes – so fast yet so tasty!
I normally use the fresh lowfat cheese mini ravioli's, but, tonight, I decided to branch out and try two of Trader Joe's Ravioli's. Spinach Ricotta and Artichoke/3 cheese.
You start off with your mock sauce. I used 2 cans of organic italian style diced tomatoes, 1/2 c water, 1/2 container of mushrooms and 2 minced garlic cloves.
Add in your 2 packages of raviloi's once the above sauce is boiling and cook for 5 minutes.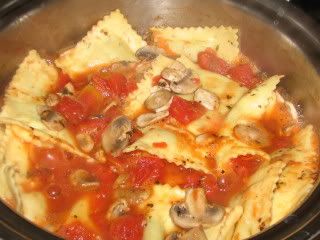 Add your spinach, sugar, salt, pepper and red pepper flakes. I think freshly chopped basil would be an awesome addition to this.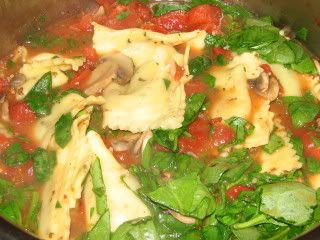 And, you end up with this fabulous dish. I doubled the quantity of the original recipe because The Husband eats 2+ servings or tonight the rest 🙂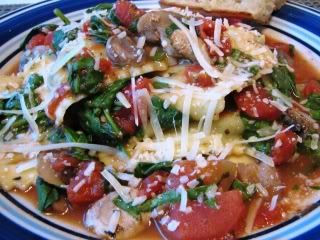 1/2 cup water
2 (14.5-ounce) can italian style diced tomatoes, undrained
2 garlic clove, minced
1 1/2 cups sliced mushrooms
2 (9-ounce) package fresh cheese ravioli (such as Contadina) or any raviloi
4 cups finely chopped spinach (5 ounces)
a pinch teaspoon sugar
dash of sea salt and coarsely ground black pepper
4 tablespoon grated Parmesan cheese
Directions
Combine the first 4 ingredients in a large saucepan; bring to a boil.
Add ravioli; cover and cook 5 minutes. Uncover and cook an additional 5 minutes or until done.
Stir in spinach, sugar, salt and pepper; cover and cook 2 minutes. Remove from heat, and let stand, covered 5 minutes.
Sprinkle with Parmesan cheese.
Yield: 4 servings (serving size: 2 cups)
I served it up with some delicious organic ciabatta bread that my co-worker gave me. I sliced it in half and topped it with a little whipped butter, brushed it with Annie's Naturals Garlic Olive Oil, pepper and little parmesan. Broiled for 1-2 minutes and you get this.
All together ~ here is my fast and easy vegetarian dinner as promised earlier today.
I am completely satisfied….this was so good and it really hit the spot. I honestly did not feel like cooking at all tonight when I came home after a long day. But, to know it didn't take much to put this together made it all worth it.
One more post tonight for you all…..revisiting my New Year's Resolutions now that the year is 1/4 of the way over. That's up next.