As predicted, this morning I was pretty much convinced my stomach was going to eat itself. It was growling and shouting feed me, feed me. I held out until 11 am and figured I needed to eat something because lunch wasn't going to happen until AFTER spin class at like 1:15. I picked a banana from their list of healthy snack options to have on hand and it completely hit the spot.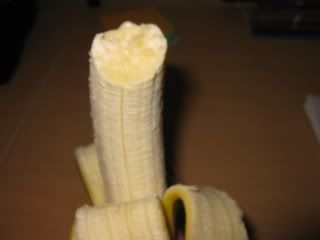 Spinning today was soooo hard, but, in a good way. I chose to do that for my cardio versus a walk or run and I am glad I did. My Body Bugg said that in my 45 minutes (includes warm up and cool down), I burned 391 calories ~ woohoo, I'll take it.
I made up my lunch last night and threw some Tilapia with chili powder, paprika, lime and Cajun seasoning on the grill. I added my 6 oz of protein to make up this AMAING SPA SALAD!
1 c shredded cabbage
1 c organic romaine
1 scallion, minced
3 organic mini carrots, shredded
½ c organic cherry heirloom tomatoes
¼ c diced avocado (the book said optional, but, seriously, is AVOCADO ever optional?!)
1 – 5-6 oz Chili Lime Grilled Tilapia Fillet (you can use chicken instead)
1 Tbsp roasted sesame seeds
Ginger Sesame Dressing drizzled over the top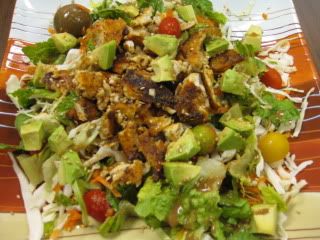 This salad was AMAZING!!! I have no doubt I will be eating it after the two weeks. The best part was the dressing. If you all make any dressing, MAKE THIS ONE!! This is straight out of their recipes in the book and I added a little crushed red pepper for some heat (you can omit this). It tastes just like a nice creamy balsamic vinaigrette with a little ginger kick!
Ginger Sesame Dressing
½ c Extra Virgin Olive Oil
¼ Balsamic Vinegar
2 Tbsp Low Sodium Soy Sauce
2 Tbsp peeled and minced ginger
2 cloves garlic, minced
2 Tbsp honey or brown sugar (I used honey)
1 tsp sesame oil
2 Tbsp Water
Pinch of crushed red pepper flakes (optional if you don't like it spicy)
I blended it all up in my Magic Bullet until smooth. It makes ~ 1 cup of dressing that I plan on using ALL week since we get a salad every day at lunch.
After lunch, instead of tea, I decided to sip on some more Hot Lemon Water. I am really LOVING this stuff.
Tonight is going to be a busy one. I carpooled so I am dropping off my co-worker, heading to Target to pick up some ocean tunes for yoga/meditation (reward #1!), to the bank, then, it's off to do 38 minutes of strength plus CORE. I cannot wait for dinner tonight ~ Tortilla Soup Plus Chicken Fajitas with Guacamole and Fruit Kabobs for dessert!
Ohhh, here is something COOL is you use the Red Box Movies. Use this special code TODAY only if you are a NEW USER to get a FREE movie – Expires at Midnight. Coupon Code: FM63H7. Fun!