Happy Thursday all! I LOVE Thursday because it's almost Friday AND it's Farmer's Market day! I have the rough job tonight of heading out to our local Farmer's Market to bring in fruit for everyone to enjoy at work tomorrow for Farmer's Market Fridays. 😀 The Husband teased me saying good excuse, good excuse 😀 LOL.
I actually popped right out of bed this morning and ready to hop on the treadmill ~ mentally that is. Then, I took my first step and felt like an old lady with soreness and my hip is hurting again *sigh* It didn't stop me though ~ I slammed out a 60 minute session and got my day started with a Morning Burst togo (hot water plus lemon slices).
I was definitely ready for breakfast this morning and whipped up a quick bowl of Maple Oats. I want to introduce you all to one of my absolute FAVORITE items of all time ~ as in I buy it in bulk on Amazon.com!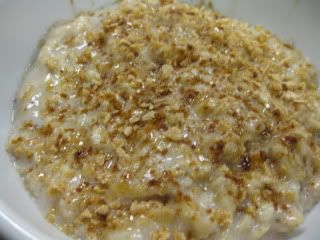 1/2 c Quaker Old Fashioned Oats
1/2 c fat free milk
1/2 c water
dash of cinnamon
4 Tsp Organic Equinox Maple Flakes (1/2 mixed in and 1/2 sprinkled on top)
All whipped up in the microwave for 3 minutes. Maple flakes are one of my favorite things because they are another healthy all natural sweetener and they have an amazing flavor for less calories! Just check out the stats.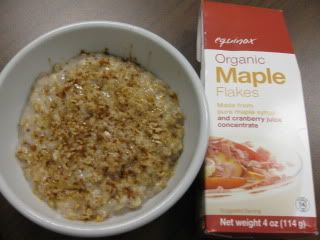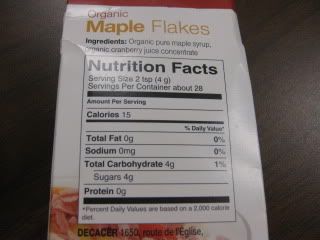 They gave my oatmeal a fantastic maple taste for only 30 calories. Equinox Organic Maple Flakes and Sweet Cactus Agave Nectar are my two stand by sweeteners of choice. I even use them to bake with and the maple flakes are fantastic in pancakes and waffles! Here is a closer look ~ check out the BIG flakes of maple goodness.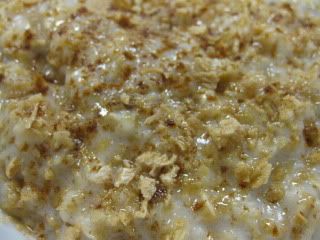 You can buy them in the 4 oz box like you see above or you can buy the grinder. I have them both and LOVE both. You just can't beat 2 tsp of mapley goodness for only 15 caloires (0 Weight Watcher Points!)
Quick Recap of yesterday:
Calories burned: 3,065
Steps taken: 15,288
I was soooo pumped yesterday when I realized after Angelea told me that we hit the double digits in the Bikini Bootcamp Challenge ~ Day 10!!!! Woohooo! I am STILL enjoying the challenge and am pondering the idea of continuing it with modifications through my Vegas Vacation!
TODAY'S FUN STUFF:

* Get 25% off your entire Border's Books order through June 14th. Click HERE to print your coupon.
* Can you have too much of a good thing? Check out Diet Detective's Daily tip for an example of when healthy foods go unhealthy. Click HERE.
* National YOGA Month begins June 15th. You can score ONE WEEK OF FREE Yoga at several participating studios nationwide. Click HERE to check out all the details & print out your Yoga Month Card.
* Then, one last fun thing ~ check out Food For Fitness by clicking HERE!
Be sure to check out the Shop 4 A Cause Charity Auction going on today over at Oh She Glows!
Have a Terrfic Thursday all! See you all later today or tonight.