Today is going to be a busy day, but, all in good ways. Our concrete is getting poured as I type – soooo excited to show you all the final pictures! We still have to do some more cosmetic stuff with adding in our rock wall and rails, changing out our door and such, but, it's going to look so amazing when all is said and done. The best part of it all is that it makes The Husband so happy ~ like a little kid in a candy store.
So far today I have gotten gas, gone to the bank, to my Weight Watchers Meeting, to Starbuck's and the Farmer's Market. Up next, finishing up my "secret blogging" package as well as a birthday package for Janetha. Then, it's off to the post office, shopping for the Bikini Bootcamp Challenge and all the usual weekend stuff all before DATE NIGHT! Tired yet?
To get things started this morning as I ran out the door, I quickly toasted a 100 calorie (1 WWP) Lowfat Banana Nut Vitatop.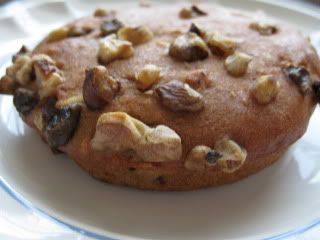 It was seriously the perfect way to start my day! It was hot, crunchy and moist and toasting it made the walnuts really stand out.
I washed it all down with my favorite summer time treat. a 2 WWP 105 calorie, iced, decaf, nonfat latte with a little caramel sauce drizzled on top!
Are you all tired of seeing the things I get at the Farmer's Markets? I can never get enough of ALL the great stuff they offer and each market is different. Today I picked up a ton of great, new stuff.
Fresh organic raspberries
A few peaches, NECTARINES, and organic apricots.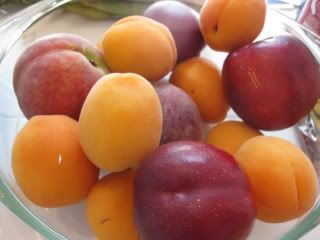 Gigantic Blueberries ~ I had a few handfuls of these as I was putting them away and I froze a batch too for smoothies!
Look at how big they are! This is just one sitting on top of an apricot.
Organic Squash & Organic Asparagus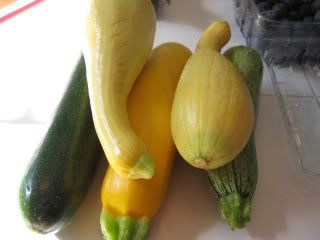 Homemade Pomegranate/Blueberry Jam PLUS Crunch Almond Butter. I also bought some Butternut Toffee and Tamari Almonds for The Husband.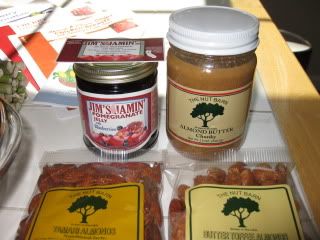 I cannot wait to use my new jam ~ OMG – they taste amazing. I am thinking of getting a little adventurous and using them to make a nice sweet italian dressing ~ YUM!
This is another thing I totally LOVE about the Saturday market ~ Check out ALL the recipes I picked up using the fruits/veggies that are in season now! (are you surprised?!)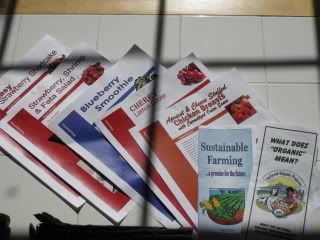 My reusable cloth bag was full at this point so I stopped! 😀 Alright, I am off to start checking more things off my list!
My GNU Bar Giveaway is going on until tomorrow night ~ Click HERE to enter for your chance to win 1 in 3 prize packs!