Happy Birthday to my FANTASTIC & AMAZING HUSBAND!!!  Today was all about The Husband and everything he wanted to do ~ actually the weekend was, but, he deserves it.  I won't swamp you all with pictures of him, but, I have to share just a couple pictures in celebration of my MOST FAVORITE PERSON IN THE WHOLE WIDE WORLD!!! LOVE him for all his cuteness, sweetness, clowniness and just for being who he is….Ok….I'll stop 😀
My FAVORITE picture of ALL time because it shows how funny he is ~ Him working in his shorts with work boots the day we busted out our concrete driveway.
Do you all remember when he stole my camera and took these pictures?! 
What about Corn Husk Man?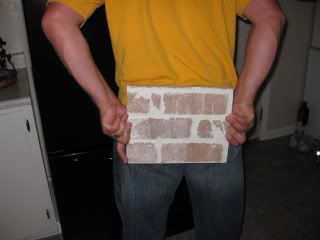 Being my support network when we went to The View & Hungry-Girl Book Signing.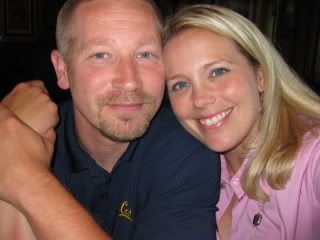 Celebrating 5 Year's Together (going on 6!)~ He surprised me for lunch with Aluminum?!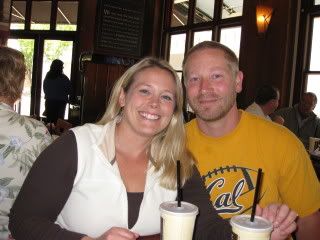 Ok, Ok, I'll stop with the pictures :)  But,, now you all see some of the reasons why I LOVE him so much?!
The Husband was only a "little" excited about his birthday.  Here is what he wrote on our calendar for his birthdya!
The Husband and his mom were in ~ Cahoots for his birthday!  He had convinced me that his mom wanted to take him on a road trip to our local Indian Casino for some gambling fun.  Um, ya, I know it was all him, but, it was still fun.  I decided to pack a box of candles to celebrate each stop as we went along.
He ordered up his BIG Starbuck's Frap and a candle made it's way into it for his straw 😀
I had good intentions when I packed my cereal and fruit to take with me and then I left it on the counter *sigh*  I knew we wouldn't be breaking for lunch so I picked the one thing that I thought would fill me up the longest ~ An Asiago Bagel.  This Starbuck's doesn't have a toaster so this wasn't even close to being good not toasted.
I ordered a Grande Iced Nonfat Latte with Caramel Drizzle to go with it.
We spent the day gambling away, chatting it up and just having a good time.  HIs mom is super cute in how she picks her slot machines to play and The Husband cracked me up even more because he thought he "should" win a BIG Jackpot since it was his Birthday and all.  Oh, if only that were the trick, I'd be all over going to gamble on my birthday!
On the way home, we stopped at a local coin show and he picked up a few more $1 poker chips that he collects.  I think that made his day. 
We have been wanting to go to Texas Roadhouse ever since it opened near us, however, it has always been packed.  Since we were having an early dinner we figured going at 3 PM would be safe a safe bet.
When you walk in, you have the choice of picking whatever steak and cut you want.  This was one of the MAIN reasons The Husband wanted to check it out.  His was flagged with a little orange flag ~ He got a 20 Oz Rib Eye – HUGE!
On each table they put a bucket of peanuts for you to snack on.  They also have a big barrel of peanuts with bags in the waiting area that you can snack on.
They encourage you to throw your shells on the floor when you eat them.  Fun, I was saving room for all the great eats, but, I did have to have 1 to throw on the floor!
After taking our order, all the waiters/waitresses busted out in country dance ~ my guess, The Boot Scootin' Boogie!  I LOVE their shirts – I am sure they do LOVE their jobs – they all looked like they were having a blast!  Our waitress was awesome – she was totally attentive and kept everything stocked up on our table from drinks to bread…..speaking of bread…..
I have officially found the BEST BREAD I"VE EVER HAD IN MY LIFE!  The Husband and I both LOVED these sweet country rolls with homemade cinnamon butter.  They were super soft, warm and sweet like Hawaiian bread only BETTER.  Honestly no butter was needed, but, hello ~ homemade cinnamon butter!
I had TWO of these rolls and honestly think I could have eaten the entire basket for my lunch/dinner.  AMAZING and you can't help but eat them until they are gone.  Don't worry – the bread basket is endless, they keep refilling it.  It was so hard to NOT eat more.
The Husband picked potato skins with cheese and bacon for an appetizer.
I had TWO of these skins ~ Holy YUM!  Then, again, You can't go wrong with "fried" potatoes with cheese and bacon.
Check out ALL the SIDES you can pick from for your meal.  Each meal INCLUDES TWO:
•Baked Potato (load it with cheddar cheese and bacon)
•Sweet Potato (load it with marshmallows and caramel sauce)
•Cup of Chili
•House Salad
•Caesar Salad
•Apple Sauce
•Fresh Vegetables
•Mashed Potatoes
•Seasoned Rice
•Green Beans
•Baked Beans
•Steak Fries
I picked a garden salad with my homemade ranch dressing on the side.  I did practice one healthy technique using my fork to dip it in the dressing.
My other side was their fresh vegetables that were cooked perfectly – crisp, tender and slightly seasoned ~ delish!
You can add ribs or shrimp onto any meal.  So, I added a Grilled Shrimp Skewer on for us to share.  I LOVED the shrimp ~ they are seasoned with a Cajun (maybe Old Bay) seasoning.  I didn't use the butter but did squeeze some lemon on for fun ~ YUM!
The main dish I got was entirely for The Husband.  We both wanted to try everything on their menu so I asked our server what she recommended.  Without hesitation she said the ribs ~ they are so tender the fall right off the bone.  Plus, Texas Roadhouse makes their BBQ sauce from scratch.  I have to say these are packed with meat, smokiness and great BBQ flavor.  I only managed to eat one but I know The Husband will enjoy the leftovers.  Oh and this is only 1/2 a rack!
The Husband's GIANT Rib Eye came out cooked to perfection.  I had a bite and it really did melt in my mouth.  I also stole a couple steak fries ~ just lots of YUM all around.  This place rocks and we will definitely be going back.
He wouldn't allow me to tell them it was his birthday but he used a good logic ~ He wanted to save room for my cake (Ha!)  So, no desserts were happening at The Texas Roadhouse, but, we did end our night sharing  a piece of his Rainbow Cake. 
Twas a fun day celebrating The Husband!  I think he enjoyed being spoiled.  I had fun indulging a bit too ~ Yes, I know, not one of my healthiest days, but, birthdays only happen a few times a year.  Tomorrow it's back on track and getting ready for our Caribbean trip.  More to come on that this week!
Catch you all later!