My co-worker came back with TWO surprises today that I pretty much couldn't resist. She brought some sushi ~ A Hawaiian Roll (LOVE This – so cheap & so good). She had extra avocado added just for me – so how could I resist that.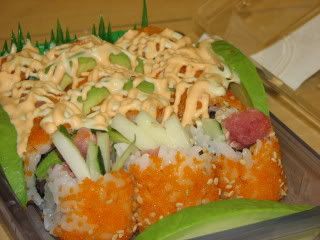 Looks pretty good for having it made at our local super market. They make it fresh to order. I had 2 pieces with avocado along with my lunch.
AND THEN….she broke out the Ultimate. My absolute most favorite cake in the whole wide world….Triple Layer Strawberry Delight.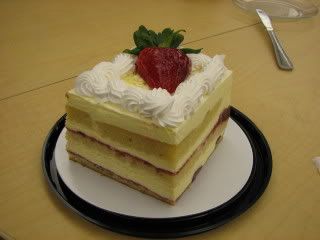 This is one of the few store bought cakes that I feel is worth every calorie! I usually pass on anything store bought because you can get it anytime and it's never as good as homemade. Here is the piece I took for my afternoon snack and savored every bite!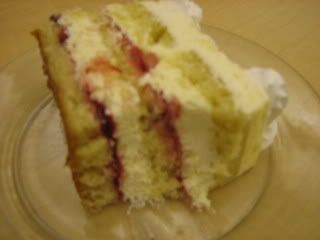 Today was such a LONG and stressful day. I was planning on another fun recipe tonight, but, The Husband proclaimed when he walked in the door he wanted leftovers (leftover steak, taters, enchiladas, all of the above). You can't argue with that ~ I'll take any chance I can get to not cook and have dinner made.
So, tonight I had a piece of leftover Lazy Chicken Enchiladas. I didn't snap a picture, but, it looked just like this one from last night only with more flavor. I think this gets better as it sits.
I have my Bake Sale highlight ready to share with you all, but, I am waiting to make sure my tester is ok with the post. I will let you all know tomorrow what she had to say.
You have until noon tomorrow to vote in the bake sale poll – don't miss out on your chance to be heard!

Ok, off to hang out with The Husband and watch a movie or maybe pass out early. I think he just clicked on The Day After Tomorrow – such a great flick!
See you in the AM!