I promised The Husband ribs as his reward for sticking by me for two weeks of veganism. He has been a real trooper in eating pretty much everything I did and not requesting meat on the side. So, tonight, I decided to grill up some ribs for him. I have him hooked on the healthier version using lean, centerloin pork without the bone or the fat.
Can you believe he ate all but 1? He actually only saved the "1" because he wanted a snack tomorrow lol.
In order to participate, I picked up the Gardenburger Riblets ~ Did you know they are vegan? That was such a cool surprise when I saw it on the package. In fact, my entire dinner was vegan – woohoo!
Here are the riblets with The Husband's help in decorating with tomatoes – he's so funny!
These were pretty tasty and so far I have not been a fan of fake meat alternatives. I think the barbecue sauce really helps and so does the added tomato, who knew?!
Our sides were the same to make things easy. I made up a small batch of Crash Potatoes – I LOVE these. They are fairly easy and fun to make and super tasty. Then again, anything with potatoes+salt+olive oil = super yum! I followed the recipe in the link using small klamath potatoes but added a little crushed red pepper and paprika for color.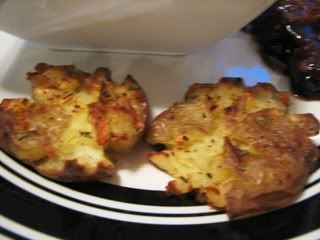 To balance out our meal, I made a huge pot of collard greens. I simply added a little olive oil to a pan over medium heat and 1 clove minced garlic. Cook for about 30 seconds. Add a 1 lb bag of collard greens (I used Trader Joe's), sprinkle with salt, pepper, a little sugar, crushed red pepper flavors and 2 cups of veggie broth. Bring to a boil, reduce heat to a low simmer and cook for about 35 minutes or until the greens are tender.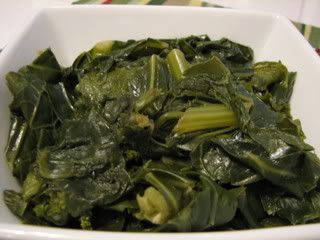 This dinner was so simple to make and I was able to prepare some of the other food for the week while it cooked. I made up a side for lunches and got my homemade spagetti sauce ready to cook in the crockpot all day tomorrow. Here it is all together…..
This afternoon I did snack on a few of The Husbands Butter Toffee almonds and a few more Trader Joe's Yogurt Covered Pretzels (all not pictured).