BODY PUMP! rocked today or should I say it rocked my socks off! It was so tough, but, in a really good kind of way. My legs were like jello walking down the stairs and my arms were shakey – always a good sign of a great strength training workout. My Body Bugg said I burned 254 calories in my 45 minute session too ~ not bad for a strength training session – woohoo! I'll be feeling it tomorrow.
Before heading out to class, I decided to break out one of my GNU bars ~ Cranberry Orange.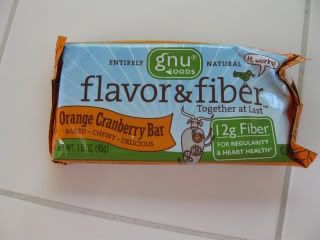 I LOVED seeing the chunks of dried cranberries, but, I do wish there were more!
I liked this flavor ~ it's pretty orangy though so you have to be an orange person I think to enjoy it. I will have to compare it to the others to let you konw here it stands in my line up, but, for now 2 points for a bar that kept me full and going through class it worked perfectly!
However, when I came back from Body Pump, I was STARVING! Last night I had prepared a 3rd Taco Salad but instead of using all ground turkey, I topped it my salad with a VEGAN Spicy Black Bean Burger.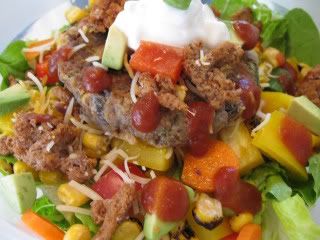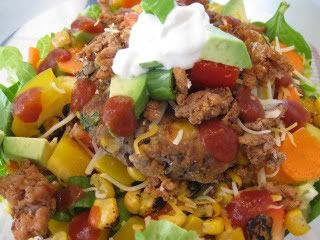 I covered up my BIG salad with some crushed Lundberg Sea Salt Brown Rice chips after I took these pictures.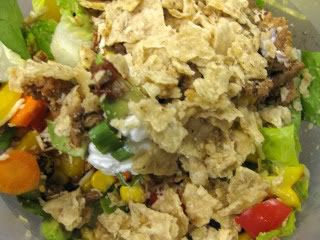 Then, I mixed it all together and ate every bite! My only wish was that I used actual salsa instead of hot sauce for more flavor fun. I LOVED having the Spicy Black Bean Burger all crumbled up – it really gave it a nice flavor and I'll definitely make it like this again!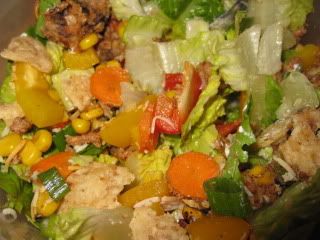 Dessert was some more cherries – so sweet and crunchy good!
I came across a few other COOL GIVEAWAYS today while playing catch up.
* Click HERE for your chance to win Kopali Organics Snacks including chocolate covered bananas!!! YUM…hurry though, this contest ends tonight at PST!
* For all my friends who WISHED they had a Trader Joe's click HERE for your chance to score a TJ's snack pack!
AND last, but, not least, sign up to score some FREE GNU bars by clicking HERE!
That's all I have for now ~ I am off to run a bunch of errands, figure out dinner and I heard there is another cool surprise waiting for me at home – yeah!! See you all later on tonight!