Before I get into breakfast, let me recap my day 1 experience in our Vegan & Gluten Free Challenge. I have to admit I love the excited feeling I have of experimenting with new eats and testing things out in the kitchen. I had fun cooking away in the kitchen yesterday for sure. Foodwise, you know, I can't say that I felt really any different. I was impressed with the fact that I was not starved at all (I had visions that eating just fruits/veggies would make me ravenous & a tad grouchy). I also thought it was interesting that I didn't have any cravings for junkfood whatsoever ~ that is pretty cool for sure.
My nutritional specks are as follows:
Calories in: 1,456, 28 points
Calories burned: 2,149 (rest day, always low), steps taken: 4,908
Protein: 11%
Carbs: 57% (but they are good carbs!)
Fat: 32%
Calcium came in a little low at 255 mg, should be 1,000 mg – good thing for supplements
Sodium was only 920 mg, for having a Thai meal that is awesome!
2 more thoughts then I am on to breakfast.
1. I know that in order to have any cholesterol in your day you have to have animal products, but, I guess I didn't put two and two together. My cholesterol for yesterday was 0 which is beyond awesome!
2. I think I am learning that Gluten Free equals alot higher calories than just being Vegan. I think it is due to the options available for substitution maybe? I think I could have reduced the calories in the Pad Thai by using Shirataki Noodles or spagetti squash. Both would be great substitutions for alot less calories.
I started my day off with a moderate interval run/walk on the treadmill that changes pace and grades every 30 seconds. Think of climbing up and down hills. It is the best way to wake up!
This morning for breakfast I decided to give my unsweetened lowfat soy milk a try by making a "Green Monster" smoothie. I have been intrigued by these smoothies after first seeing them on Oh She Glows. I used her idea as a base and in Danica style modified it to my liking.
Here is how mine turned out ~ next to my favorite SIGG bottle and Running Bunny Organic Decaf Coffee: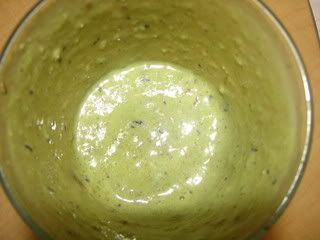 Included was:
* 1 big handful of spinach (about 1 cup)
* 1 small banana
* 5 medium strawberries & 1/4 c blueberries (that I froze last night to make this icy)
* 1 c lowfat unsweetened Silk soy milk
* 1 Tbsp ground flax seed
* 1 Tbsp organic freshly ground almond butter
This was a cinch to make ~ I just tossed everything in my Magic Bullet & tadah! I have to say it was pretty darn tasty and you don't even taste the spinach. The soy milk made it really thick and creamy along with the banana and the almond butter added the perfect toastiness ~ Yes, I made it through drinking it all and I think I might just like soy milk after all.
Phew ~ that was a long post! Alright, I guess I need to get to working. Have a fantastic day all & be sure to check back at lunchtime for more.