We got out of work early AND it's a long weekend ~ two things that always put me in a great mood. Just when I was thinking how awesome my day had been, I walked in the door and saw a package for me ~ Yeah!!! At first, I have to admit, I wasn't sure what it was, but, then, I opened it and I saw ALL of this……..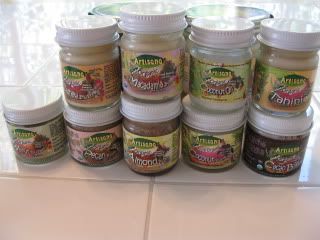 Premier Organics sent me the coolest samples ever ~ 100% Organic Artisana Raw Nut Butters!!!! I received a ton of little sample jars and two big jars that I cannot wait to try. Look at how cute the little 1 oz samples are.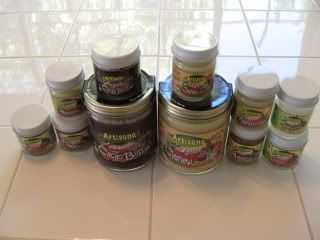 Check out ALL the flavors that I will be reviewing ASAP so you all know which to try out. Their site is so cool ~ check out all the RECIPES they have using their nut butters – I think some recipe testing is in order too! MMMMM….Thai Noodles using coconut butter! I am not sure which recipe sounds best.
1 oz jars of:
* Walnut Butter
* Cashew Butter
* Pecan Butter
* Macadamia Butter
* Almond Butter
* Coconut Butter
* Coconut Oil
* Tahini
* Cacao Bliss (Chocolate + Coconut!)

and TWO big Jars of:
* Cashew Butter
* Cacao Bliss (Chocolate + Coconut!)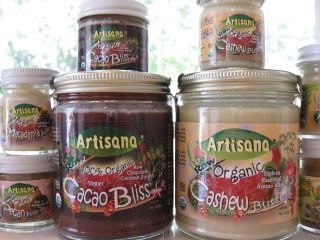 I absolutely LOVE everything that Premier Organics stands for and represents. The name of their nut butters ~ Artisana means The Art of Healthy Food. Their handmade nut butters are made using sustainable organic farming and they often buy straight from the organic farmers themself. The nut butters are slow baked to perfection keeping them in their natural raw state while developing the best tasting natural, raw nut butters. The process they use to make their nut butters preserves the life-essential fatty-acids, enzymes, and vitamins. To me, they are made exactly how a nut butter should be made….just using a good quality nut and no funky fillers or additives. They are 100% CLEAN with healthy fats that are good for you. Add a little Cacao and you get the added bonus of healthy anti-oxidants too 😀
It is for all these reasons and more that I have absolutely been wanting to try ALL their products. Thank you so much, Premier Organics!!! I cannot wait to sample away…..reviews coming soon!!!

Dinner was a little less exciting as we worked on eating up the leftovers from the lunchtime BBQ. I was a little heavy handed when I spooned up my plate so I actually only ended up eating about 1/2 of everything you see here.
It just didn't taste as good the second time around, but, it was nice to not have to cook!
TWO COOL THINGS TO CHECK OUT:
* Sarah is giving away a HUGE package of Sonny & Joe's Hummus! Click HERE to check it out as she swears it is as good if not better than Sabra Hummus. I need to win so I can confirm that one 😀
* I saw the absolutely coolest commercial on TV today ~ for ONE DAY ONLY (SATURDAY), Old Navy is having ALL THEIR FLIP FLOPS on sale for $1. I am all over that one, what time do they open?!
Ok ~ I am off to hang out with The Husband – he is getting ancy waiting for me to finish blogging. I am not sure what the plan is, but, I will see you all in the morning after my WW meeting/WI and another farmer's market trip – Fun!