Today I signed up to participate in the Blogger Bake Sale hosted by Meghann. She is raising money for a great cause and I watched her last sale be a super huge success. I know I want to participate, the question now is, what do I make?
My head was spinning with ideas today from things I make myself (think Christmas baking) to the different cookbooks I have to different recipes I've seen on blogs. I think the key is to have something that will travel well and that looks amazing being photographed. I have thought of homemade girl scout cookies, my mom's homemade chocolate peanut butter eggs (perfect for Easter!), muffins, breads, etc.
In the upcoming week, you will see some of my trials as I figure out what I want to make for the bake sale. It should be fun and I know The Husband will be happy to try it all out lol.
On tonight's baking agenda, was Homemade Chocolate Peanut Butter Crunch Bars. I first saw these here and have wanted to give them a go ever since.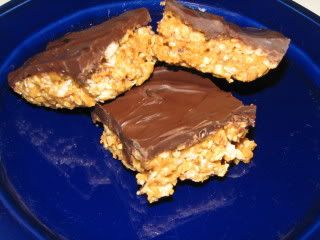 I really think the key to this recipe is having good granola and possibly mixing it up a bit by adding coconut or something. They were pretty tasty, but, super rich. They didn't say to me this is it, so my journey for the perfect recipe will continue. I will let you all know what everyone else thinks.
Do you have any ideas or recommendations for something I should bake? I would love to hear any ideas you have, comment away.