Note to self, going to bed past midnight and trying to get up before 6 am doesn't really work. I am seriously dragging this morning…..so tired! But, I did manage to muster up a pretty decent menu for today in my morning fog. I made up a quick batch of Banana Nut Bread Oats this morning that seriously rocked.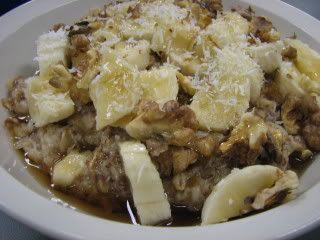 In the mix:
1/2 cup Quaker Old Fashioned Oats
1 cup water
1 1/2 Tbsp ground flax seed
3 dashes of cinnamon
1 banana, 1/2 quatered and put in after cooking, 1/2 used for topping
1/2 oz "toasted" walnuts (nuked in the microwave for 1 minute)
1/4 tsp organic unsweetened coconut
2 tsps pure maple syrup drizzled (one would've worked)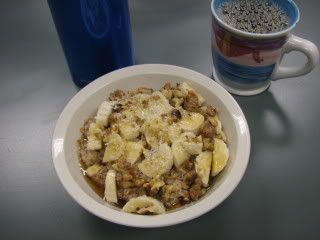 This made up a huge, satisfying bowl that I am sure will fuel me all morning. I served it up with 1/2 and 1/2 (decaf & regular Starbuck's Coffee). I must really be THAT tired. As I walked out of the kitchen with my breakfast, my co-worker was like, "you look sooo tired! Well, I mean, you never look tired, but, you really look tired. So you must be." LOL ~ wow, does how I feel really show?!
Alright ~ off to crank out some work. Be sure to check out lunch today. I am so excited for it and have been trying to make it all week (going out to eat gets in the way lol). The weekend is almost here – yahoo!