Today has totally been a fun filled Friday! For my morning snack I decided to try out one of the new Weight Watchers Chocolate Walnut Brownie Bars that I picked up last weekend.
When you open it up, it really DOES look just like the box ~ the icing makes it fun to look at.
I typically do not choose the WW bars because they always leave me wanting more and the ingredients are not 100% recognizable/clean. However, I do make some exceptions when the flavor is there and it's a "treat". This bar was pretty tasty – it really does taste just like a brownie with chunks of walnuts and brownies. It does not taste diety at all.
After spending some time chatting with Zesty about my new blog layout (I am soooo excited!), it was BBQ time.
Our worked used Gracie's BBQ to cater our Memorial Day Cookout. They set our breakroom tables up outside with cute table clothes and covers.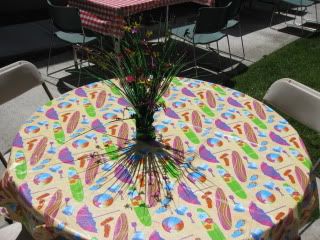 I did take pictures of ALL the food but knew you all would be most interested in the dessert table ~ YUM, I definitely saved room, but, more on that in a sec.
Being the "sampler" that I am, I filled my plate with a little of everything, however, I only ate about 1/2 of what you see here.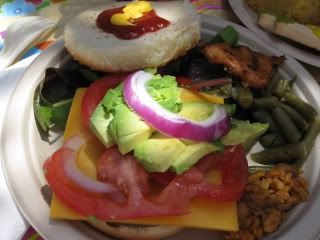 I started off with my tasty veggie burger topped with cheddar cheese, Annie's Naturals Ketchup and Mustard, tomato, red onion and avocado ~ It was so good!
Then, I nibbled on a little of the grilled chicken breast – it wasn't too bad, a little dry. I had two bites of this along with two bites of green beans, beans/rice and a little of my salad.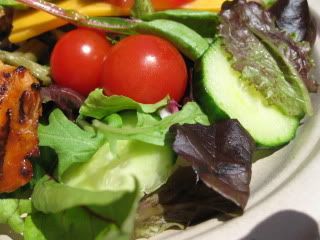 I LOVE corn bread especially when it is sweetened with HONEY. I had 1/3 of this so I could save room for my dessert!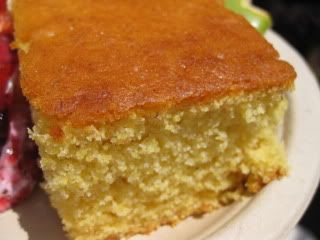 I picked up a frosted sugar cookie to try, but, was sort of disappointed. It was iced not frosting. I decided after one bite it wasn't worth the calories and moved on.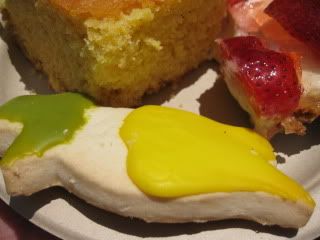 This strawberry blueberry fruit pie thingy was amazing! It was so light and fluffy with a white chocolate mousse tasting filling. I ate EVERY bite of this and probably could have licked my plate too 😀
After playing a few games and a raflle, they gave us fun little jewelry to take with us.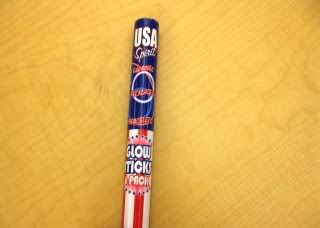 I thought of taking it out and sporting it for you all in a picture but figured one of our nieces or nephews would enjoy it more!
It was such a nice day outside and it really made the work day fly by. We had so much food leftover that they sent it home with everyone. The good thing is I don't have to cook tonight. The not so good thing – you will probably see the same thing for dinner 🙂
Don't forget to enter my signed Hungry-Girl Cookbook and T-shirt Giveaway – I made entering easy on you all and you have so many chances to win. Click HERE to Win!