Have you all ever noticed how many infomercials are on at 5 am? Today I decided to do my 1 hour of cardio on the treadmill because it was dark outside and I am a sissy la la running by myself outside in the dark. It took all the bells and whistles to entertain me ~ I had music on and closed captioning on the TV watching the news. I think next time I'll have to bust out my Sex In The City DVD's for entertain 🙂
My interval walk/run was the best way to wake up and start my day – I honestly feel super entergized now. I started out with the usual morning burst (hot water plus lemon slices) before I moved on to breakfast. Today's breakfast was another awesome parfait.
Banana Parfait with Blue Balls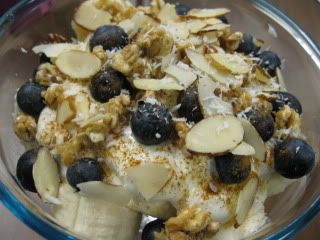 1 banana, sliced
1/2 c homemade lowfat greek yogurt (recipe to be posted while I am in VEGAS!)
Sprinkle of cinnamon
small handful of blueberries (a.k.a. blue balls)
1 Tbsp Kashi Honey Flax Granola
1 tsp raw almond slices
Sprinkle of Unsweetened Organic Coconut
I LOVE how thick and creamy you can get your greek yogurt when you make it yourself.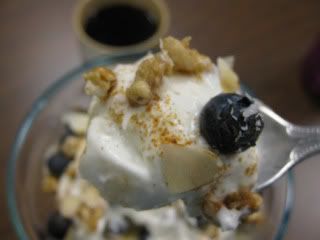 I decided to have some decaf Starbuck's today with breakfast as well.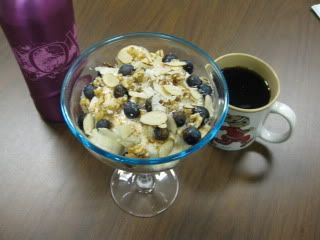 When I sat down to eat my fantastic parfait, I realized the best ingredient ever was missing ~ Sweet Cactus Agave Nectar! I used a 15 calorie 1 tsp drizzle.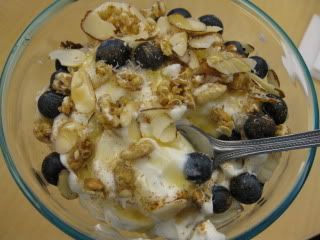 It was a great way (4 Weight Watcher Point) way to start my day.
Quick recap for yesterday:
Calories burned: 3,167
Steps taken: 11,443
I think I learned that how you eat the night before really impacts how hungry you are the next day. I think only having veggie soup for dinner on Sunday night led to me being ravenous all day long…..Have you all ever noticed this happening to you?
Today is going to be super busy, but, I plan on taking a Body Sculpting break at lunch. I do not have time for any fun stuff today 🙁 Sorry All – I am off and running!
I will catch up with all your comments and all later this afternoon or tonight!