I hope your Monday is moving right along, I know mine is. I had to run out at lunchtime to pick up the fabulous Ice Cream Cupcakes for our party today, but, more on that later. Even though I ATE dessert before lunch, I have to at least post in order, right? 😀 I felt like I was really lacking in veggies last week so I definitely made up for it in this super huge salad I made.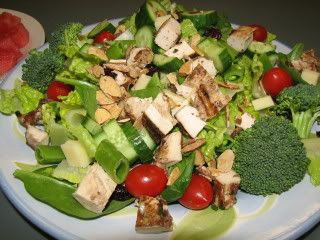 Included in the mix:
Romaine
Spinach
Broccoli
Cucumber
Snap peas
Cherry tomatoes
Green Onion
2 Tbsp Free sample pack of Accent Honey roasted almond slivers – Yum!
2 Tbsp TJ's Berry blend
3 oz Grilled chicken
¾ oz Cabot lowfat cheddar (only 50 cal, 2 g fat/serving)
Splash of Bennisimo Blueberry balsamic
Dash of Extra Virgin Olive oil
Just look at all that crunchy goodness! This salad was so huge but so tasty. I love big salads because they make me feel so healthy lol.
My dessert was supposed to be the watermelon you see here, but, I am now saving it for later since I indulged in the cupcakes. Oops!
For my morning snack, I had 1/2 c Trader Joe's Fat Free Cottage Cheese w/1/2 cup pineapple and a few strawberries. It definitely filled me up because I did not sit down to eat my dessert, um, I mean, lunch, until almost 2 pm.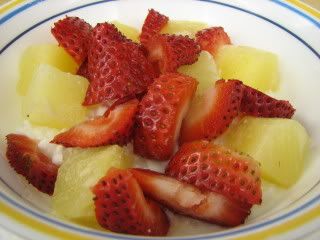 Be back soon to tell you All about the cupcakes…you won't want to miss it.