It has been raining for like two days straight and after our soggy run in the rain, I was ready for something warm for dinner. I was sooo excited when I saw the recipe for Clam-Free Chowdah in the Jan-Feb 2009 Veg News Magazine. I knew this would be perfect to warm me up. I served it in these fabulous sourdough bread bowls with Trader Joe's Soyrizo on the side (so The Husband can have his meat fix ~ shhhhh, he didn't know it wasn't the real deal!). I have to admit though, after tasting the Soyrizo, I added it to mine too. The recipe is fabulous all by itself, but, this gave it a spicy kick which I LOVED.
I am going to go ahead and post the recipe because what fun is it, if you can't see how easy it is to make. I think as long as I site the author, I should be ok, but, we will find out 🙂
Clam-free Chowdah!
by Allison Rivers Samson
posted in Jan+Feb issue of VegNews
serves 4 (unless you are me who just ate three bowls)
2 tablespoons non-hydrogenated margarine, divided
1/4 pound oyster mushrooms, chopped into 1/2-inch pieces (I used baby portobello mushrooms)
1/2 cup raw cashews
2 cups vegetable broth, divided
2 cups of water (use only 1 cup if you want it thicker)
1/2 cup onion, diced
1 1/2 cups cauliflower, cut into large pieces (I used 1 bag of the TJ's pre-cut version)
1/4 teaspoon garlic, minced (1 clove)
3 bay leaves
1/2 teaspoon thyme, dried
1/4 teaspoon white pepper
1 teaspoon sea salt
1 1/2 cups potatoes, peeled and diced
1/4 teaspoon natural smoke flavor
1/4 teaspoon black pepper, freshly ground
1 teaspoon fresh parsley, minced
I also added a dash of hot sauce
1. In a skillet over medium-low heat, saute 1 tablespoon margarine and oyster mushrooms for 7 minutes, then set aside.
2. In a blender, grind cashews to a fine powder, then add 1 cup of vegetable broth. Blend until smooth.
3. In a large stock pot over medium-high heat, add 1 tablespoon margarine, onion, cauliflower, and garlic. Saute for 5 minutes, then add bay leaves, thyme, white pepper, remaining vegetable broth, cashew mixture, water and salt. Bring to a boil and then reduce to low heat and cook for 15 minutes. Remove bay leaves.
4. Using either an immersion blender or regular blender, blend until completely smooth. (NOTE: I guess there is a small error in the recipe because it never says when to add the 2 cups of water so I added it here when I blended). Add potatoes and cook over low heat for 40 minutes. Stir in smoke flavor and the mushrooms. Serve hot, garnish with a sprinkle of freshly ground black pepper and a pinch of fresh parsley.
This recipe takes a bit to cook, but, it is absolutely worth the wait. It is so creamy and thick ~ it really did amaze me that there is no dairy in it at all. Since I do not usually eat Clam Chowder, i can't tell you if it compares, but, I can say Thus Husband and I both loved it and will definitely make it again. Here it is up close: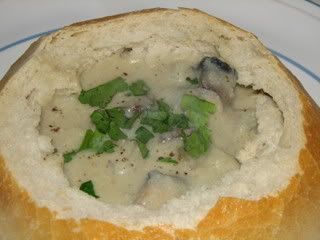 And my side of Soyrizo ~ I only used about 2/3 of this as it doesn't take much to add the kick.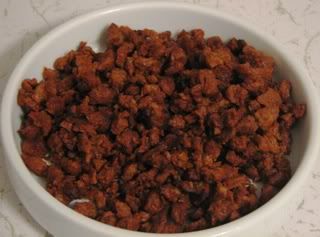 I ended up having about 1/1/2 cups of the soup and about half of the bread bowl. While dinner cooked, we dipped the insides of the bread in a spicy balsamic/olive oil dipping sauce – So good!
This dinner was so satisfying. I bet the leftovers are even better.