Today was a busy, busy day at work for sure! It started off super cool with another Bernie Delivery (to be unveiled soon – promise – it's something you all will definitely want!) We also had a double surprise baby shower for two co-workers who are having babies on the same day….did I mention they work in the same department next to each other? I am seriously staying away from the water fountain they drink from 😀 LOL
Today was a day that definitely called for chocolate. I had one more Dove Dark chocoloate sitting on my desk from my co-worker that spoke to me.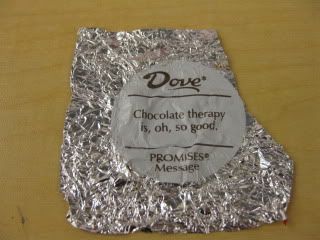 OMG ~ how true is that?! It definitely made me feel better as I was working away. Later on I had a real snack of some TJ's cashews x's 2. I had my second round about 6 pm since I was still working away and my tummy was rumbling.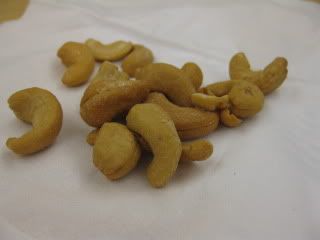 When I came home The Husband declared he wanted cereal for dinner. How can your argue with that…so he proceeded to eat a 1/2 a box of Lucky Charms (~ 14 oz!) I wasn't feeling cereal so I took some leftover Chive Buttered Noodles and topped them with leftover mushroom sauce.
All mixed up it looks just like Beefless Stroganoff. This was soooo good – I think almost better the next day.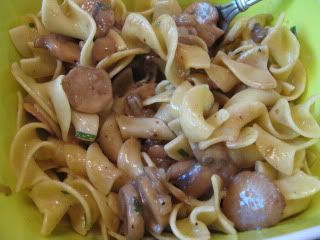 In a fun bowl with a nectarine because fun bowls make me HAPPY!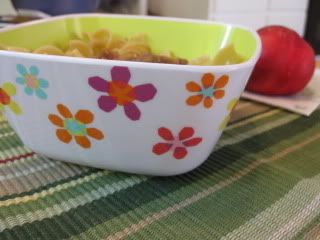 So I promised you all last night to tell you about the super cool goods one of my co-workers gave me yesterday. Her family own's a local Gourmet Food Company and they have some fantastic products that they make.
They were nice enough to bring me THREE bags of organic corn chips, two jars of Sweet & Spicy Mustard and some super fancy Organic Extra Virgin Olive Oil!!!
Check out all the ingredients and nutritional specs on the corn chips ~ they are 100% Clean Eats!
Yellow Corn with Flax Seeds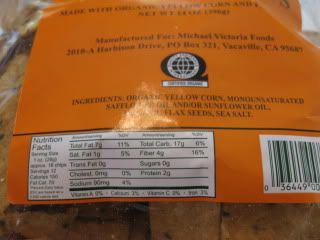 White Corn Tortilla Chips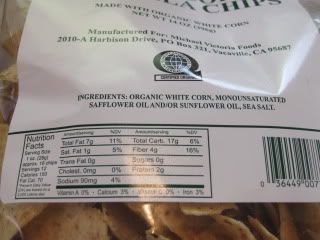 Blue Corn Tortilla Chips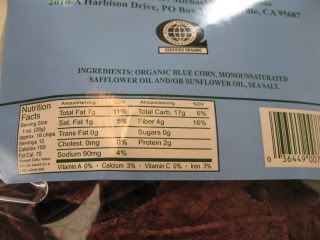 My absolute favorite type of mustard too ~ Sweet and Spicy. I cannot wait to dig into this!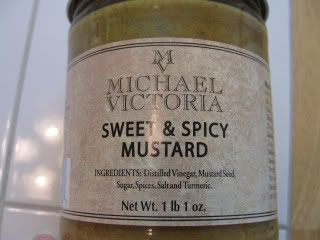 This is why I LOVE mustard ~ even with ALL the flavor in sweet & spicy versions – there is still barely any calories.
I LOVE Olive Oils too because they are healthy fats when used in moderation. A little bit goes a long way. I bet this is fantastic drizzled over pasta and dipped straight up with bread.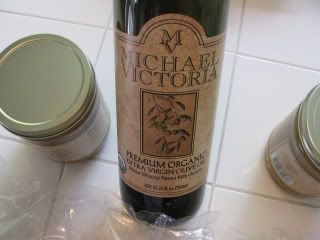 I will find out all the places their products are sold at so you can check them out. I know she mentioned Whole Foods. Locations and reviews coming soon! Maybe I can dip my new chips in some Fire Salsa ~ MMMMMM….chips+salsa = LOVE! I also think I might need to host a giveaway to share ~ whatcha think?
Alright all ~ I am beat….off to get a little caught up and then hit the hay so I can get up for another early morning workout. It's time to get back into the groove!
Don't forget to click HERE to get some Holey Donuts!