I am doing a quick post tonight in an effort to get into bed before midnight. This week I am so sleep deprived, I need the weekend to make up for it. I know that 5:30 am wake up call will come early.
This afternoon I resisted having a WW Snicker's Ice Cream Bar as long as I could. I finally caved around 3 and much to my surprise the ice cream bar was a decent size.
I think lately I've been a little spoiled on the "real deal" ice cream….as in when I do have it, I suck it up and have the real thing. I have to admit this bar was pretty tasty with the roasted peanuts and caramel goey-e-ness (yes, that's a word!). You can tell it is light ice cream but it definitely cured the sugar craving I had going on. While I wouldn't normally choose this as a snack since it does not have any sustainability, it was a nice change for a treat.
After work I ran around everywhere – to get gas, the grocery store (for part 2 of my bake sale order), lotto w/The Husband and we decided on Chipolte for dinner to save time. I ordered 3 crispy chicken tacos with pico de gallo, corn salsa and a small bit of cheese.
These tacos were so crunchtastically good! I LOVE their chicken which reminds me, I have a recipe for it….note to self to replicate in the future. This really hit the spot before I broke out in a baking frenzy.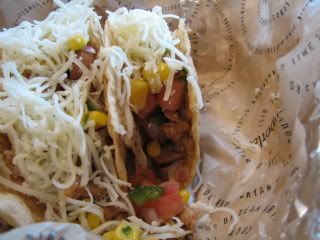 I might have stole a few bites of The Husband's quesadilla and of course had to do some quality control tasting of cookies plus frosting!
I got a great start on baking tonight. The pb eggs are made up ready to go skinny dipping in dark chocolate. I made up the Snicker Surprise Cookies with 4 colors of frosting for my friend and The Husband. And last but not least, I made up the Banana-Raspberry Cake with Lemon Cream Cheese Frosting. I can't wait to share it all!
I am off to catch some much needed zzzzz's but I promise more tomorow including pics of the goodies, the cake and the dinner I had planned for tonight.
Night all!