Today has really been a whirl wind type of day – don't people know Fridays are supposed to be nice & easy & relaxed! Oh well 2 hours to slam out all my work then I am free, free, free at last!
The title you ask, um, well, I was discussing my day with my co-worker and I guess I got a little shaker happy. I made up this fabulous Greek Salad to share with you all and are you ready for this ~ Shook it all up in my container BEFORE I took the picture ~ ack! Oh well, you will have to imagine the beauty of how it looked before I shooked it and then tried to re-arrange it 😀
My co-worker was teasing me saying it was my "ugly" container that was making the picture bad, not me shaking it….LOL….Um, ya, that's it – so here is an upclose picture for you all to see!
3 cups Romaine
1/2 red bell pepper chopped
1/2 c sliced english cucumber
1/4 cup sliced olives
2 Tbsp FF feta
2 Tbsp Newman's Own Lite Lime Vinaigrette – LOVE this!
5 oz grilled shrimp that I set on fire last night on the grill!
Last night both my basting brushes were dirty so I thought I could ever so slightly pour my dressing on the shrimp as it cooks. Guess what I learned?! You can't pour oil on an open fire ~ Whoops! Luckily I salvaged my shrimp and put out the BBQ'r – yup, I am the total grill master!
Ok moving on……This morning I attempted to snack on 1/2 c ff cottage cheese with a medium pear and 1 Tbsp Almond Slivers….I only got to eat about 1/2 of this as I kept getting pulled away from my desk for hours at a time.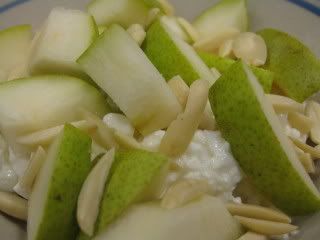 I realized this morning I forgot to post my Body Bugg Recap for yesterday – here are my rockin results even after having my BB off for 3 hours in the AM to charge. I LOVE days I get over 3,000 calories burned – I feel so accomplished!
3,197 Calories Burned
14,494 Steps Taken
1,640 (1,500 planned plus my Rice Chip Selection 140)
On a wayyyyyy super cool note ~ Today I scored FREE MOVIE PASSES @ Work. Our Glee Club told us that April Showers Bring Movie Passes (nobody said they were poetic or anything)…..so a new flick is definitely going to happen this weekend!
Let the countdown to the weekend continue!