Today I did some shopping at lunchtime with my co-worker and we stopped at Whole Foods. I LOVE my Whole Foods Reusable grocery bags – they seriously rock! Not as stylish as the ones you can buy but I got it free during their grand opening and it can hold 2 gallons of milk with no problem at all. They are my favorite reusable bags out of the stack. Here it is posing for you 🙂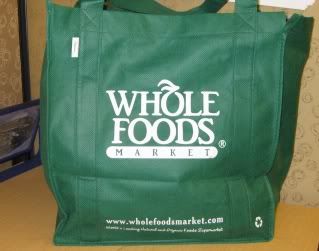 However the best part of the whole trip was the DOUBLE CHIP DONATION in honor of Earth Day. Each time you bring your own bags to Whole Foods they give you the option of having 5 cents off your bill or donating the 5 cents to charity. I donate it to charity because they give you these fun wooden chips that you can drop in 1 of the 5 charities of your choice – so cool!
My mid morning snack was a Raspberry Smoothie. I was pretty excited about getting to use an entire cup of greek yogurt in my smoothie but it was definitely missing the sweetness factor. I would have LOVED to have added some sweet agave syrup…..but, I refrained and stuck to the Jump Plan.
1/2 c frozen organic raspberries
1 c ff greek yogurt ( I LOVE TJ's brand best!)
1/2 tsp pure vanilla extract
1/2 cup fat free milk
After our shopping spree where we had to pick up a ton of ICE CREAM for the birthdays today (I will resist!), I prepared an amazing lunch.
1 TJ's Chile Lime Chicken Burger ( LOVE these only 150 cal, 3 pts!)
1 slice TJ's Lite Havarti cheese
2 slices of tomato
1 romaine leaf
ketchup
mustard
Ezekial Bun
WOW! This was seriously the best chicken burger I've ever had. I eat the TJ's burgers all the time but today was an exception. And I could taste the CHEESE too. I hate it when you add cheese to something but you cannot taste it. This was my first time trying the Ezekial buns and I LOVED that too. I will definitely be using this bun in the future.
On the side I had a super sweet cantaloupe and a big jug of Penguin Fizzy Water. I am so excited that fruit is coming into season and there are more choices than just apples/pears/oranges.
It was a fantabulous (yes, it's a word!) lunch! I am nice and full so it should be able to resist the huge Ice Cream Party we are having in an hour – wish me luck!
While you are at it, make sure you enter my Earthday Giveaway – Annie's Naturals Go Green Dressing Giveaway – there are only a few hours left! I will announce the winners tonight!