Happy Friday all! I cannot believe the weekend is almost here – Yeah! It's just been such a long week with being nonstop on the go ALL week long.
We had fun getting everything last night, but, I have to admit I was completely bummed that they didn't have any strawberries, raspberries or blueberries. There was a boysenberry guy but he wouldn't sample them. I didn't want to buy them unless I knew they were sweet *sigh* Don't people know that is how you get your product to sell? People sample it and if you are like me, you decide at that point you cannot live without it! 🙂
Are you ready to see the Farmer's Market spread I laid out for everyone to enjoy today?
A gigantic bowl of fruit ~ White & Yellow Nectarines & Peaches, Apricots and Pluots – my favorite!!! They are a cross between an apricot & a plum.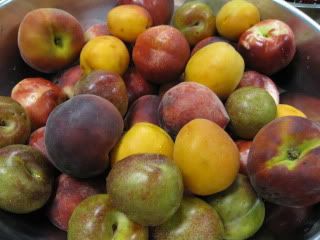 A big bowl of cherries – can you believe I scored this entire bowl for only $9 – It's 5 lbs!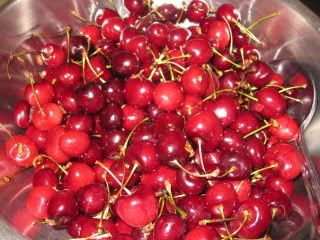 Nuts are a must at any market especially when you have them specially roasted by a farmer.
My favorite ~ Butter Toffee Almonds.
Orange Honey Almonds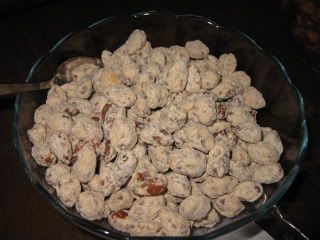 Honey Roasted Almonds
And pistachios!
All together this is table #1!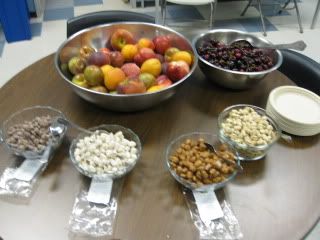 Table #2 is separate because well – it's all my weaknesses LOL! I need to stick to the fruit and nuts 😀
Seeded Honey Raisin Walnut Wheat Bread and 1/2 white & 1/2 wheat hummus dipping bread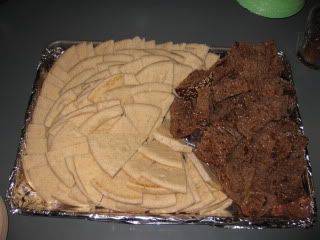 Two Types of homemade hummus that are WAY better than Sabra ~ Roasted Garlic & Roasted Red Pepper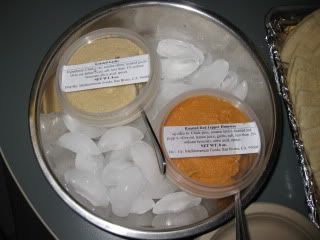 Kettle Korn……Once you start, you can't stop – steer clear of this amazing stuff!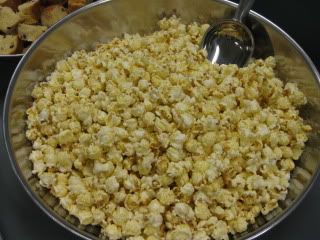 I was really hoping that the honey guy would have his flavored sticks but he doesn't make them anymore 🙁 Too bad because they make for fantastic pictures! I settled for regular local honey sticks that are great eaten straight up or drizzles on either of the breads.


So that is everything ~ fun right?! Can you see now why I have a Farmer's Market addiction? Every time you go it's different and each market is different too – love that!
For breakfast, I had planned on making a pineapple smoothie topped with Kashi Honey Flax Granola. Then, I realized I forgot my magic bullet. Ok, fine, I'll make a parfait, but, when I opened up my lowfat greek yogurt it smelled like sour cream 🙁 Boooo!
So I decided to change things up a bit and go with the Farmer's Market Friday fruit and nuts I was saving for my morning snack.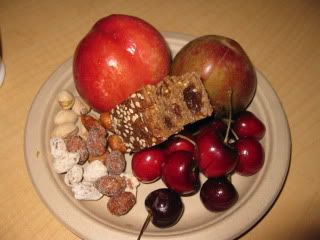 I ate the nuts, cherries, bread and a piece of cinnamon raisin challah bread (not pictured). I am saving the nectarine and pluot for my morning snack. Phew – a healthy save – yeah!
Quick recap of yesterday:
Calories burned: 3,068
Steps taken: 13,510
Alright all, I have to finish out my crazy busy week! I am thinking some nice Yoga and stretching is in the works for lunchtime versus spinning……See you all later!