Are you all getting excited? The Bake Sale and the Annie's Giveaway are almost over – T-15 minutes and counting…..or so they always say that in the movies 🙂 Don't miss out, you still have time to "sneak" in and get a last minute bid the baked goodies and of course to win the Annie's stuff.
Tonight I actually had a different dinner planned, however, when, I received my SELF weekly recipe for Fettucinie with Shrimp, I quickly changed my mind. I LOVE recipes that are quick and easy to cook. I followed the recipe except, I added a few extra things.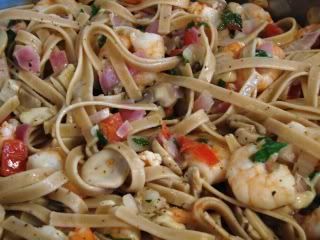 I added the juice of one lemon
1/2 teaspoon of freshly ground pepper
a pinch of sea salt
1/2 teaspoon of crushed red pepper flakes
All my ingredients were organic including organic Whole Wheat Fettucine from TJ's (it's only $1.29 a pack!)
The recipe says it makes 4 servings, but, I honestly think it's closer to 6. I think that is awesome because it means I have lunch made for tomorrow already for both The Husband and I.
I served mine up over some steamed spinach for a delicious dinner. This really did taste like a nice restaraunt Shrimp/Pasta dish with a hint of a scampi flavor. I am sure it was the addition of the lemon with the garlic that gave it that flavor.
The Husband gave it 4 stars out of 5 and I think it is definitely that if not a 4.5 recipe (it took less than 30 minutes). That's better than Rachael Ray's 30 minute meals 😀 lol
Alrighty then…I am off to work as I have a project to finish tonight – I know, I am a lucky girl. Who doesn't love to start out their week with a nice late night project…don't be too jealous. I did just get back from Starbuck's with a nice grande iced, ff decaf latte so that makes staying up late a little more fun.
I'll see you all in the morning when I announce the TWO winners of the Annie's Prizes and find out who won my fabulous baked goods…..you still have time, tic – toc – tic – toc…..