I took my afternoon snack with me yesterday so I wouldn't end up going to the grocery store hungry. After stopping by to visit our friends and picking up my car, I was ready for it.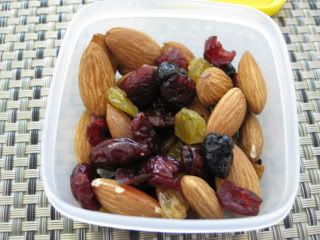 Blue Diamond 100 cal pack of raw almonds
1 Tbsp TJ's Berry Blend
I LOVE this 2 Weight Watcher Point snack!!! I picked up a couple of post Bikini Bootcamp things to try when I was at Trader Joe's – they are new to me!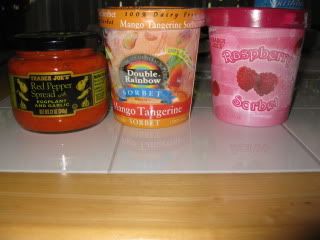 TJ's Roasted Red Pepper Spread (it has amazing nutritionals!)
Mango Tangerine Sorbet
Raspberry Sorbet
I resisted opening any of them up to sample them too! Yahoo! I was definitely ready for dinner by the time I got home.
We started with Black Bean Soup…..You saute a little onion and garlic in olive oil before adding chicken or veggie broth and 2 cans of drained and rinsed black beans. Boil for 10 minutes and puree. I only pureed about 1/3 of it though because I like chunky, not baby food soups 🙂 Season with sea salt and freshly ground pepper before serving.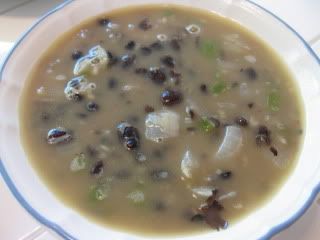 Then, you top it all off with some jicama, tomatos, AVOCADO and cilantro.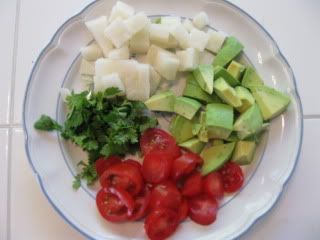 My biggest change for the next time I make this soup would be to spice it up ~ addint some chili powder, cumin, and paprika. It was still tasty but I think that would have made it more flavorful.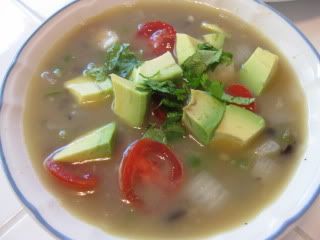 While the soup cooked, I got to work on my Fish Tacos in "Lettuce" Shells.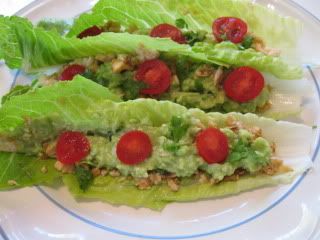 1 4 oz Tilapia fillet
Placed on a sheet of foil sprayed with nonstick spray
Seasoned with sprinkles of cajun seasoning, chili powder, paprika, garlic salt, pepper and lemon juice
I grilled it on the grill for 10 minutes. However, you could do the same in the oven on 400 degrees for 8-10 minutes or until the fish is opaque. Shredd your fish and top 3 organic romaine lettuce leaves with the fish.
Next is your toppers. The star of the show if you don't make it TOO hot like me, is the Avocado Salsa Verde.
1/2 avocado
1/4 minced onion
1/2 jalepeno, minced
1 small garlic clove minced
1 Tbsp water
Blend the above in the blender, then stiry in a few pinches of cilantro. Season with salt and pepper to taste. Makes 4 servings
Top your fish "tacos" with the Avocado Salsa Verde, some additional tomatoes and cilantro if desired. Dig in and enjoy!
The entire dish is only 5 Weight Watcher Points for 3 tacos with 1 serving of the Salsa. The romaine lettuce leaves work perfectly at keeping everything in taco shape.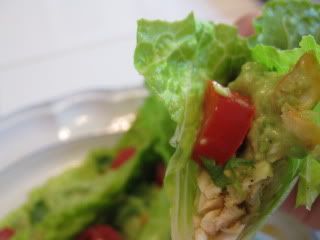 The Husband doesn't eat fish at all so I pulled some of the Slow Cooker Beef Burrito mix out of the freezer and made him up some tacos. Click HERE for that recipe.
After dinner I went straight into doing my meditation, yoga and The Husband went on a nice long walk with me. I did one round of easy circuits when I came home. I was taking it easy yesterday because my hip was really hurting. Yes, I felt like such an old lady.
I was absolutely looking forward to dessert when I was all done ~ a big bowl of fresh berries – YUM! I swear I can never get enough of these.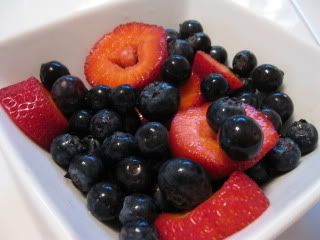 We watched (um, well, I fell asleep), the Curious Case of Benjamin Button. The Husband said it was great so I may have to catch up today and watch the rest.
Hope you all had a fantastic Saturday ~ my day was awesome getting a ton of things done and still finding time to hang out with The Husband/relax.