Happy Friday Eve all! The weekend is almost here and I cannot wait for it to arrive! This morning I started out with a fast yet tasty breakfast.
This recipe is perfect when you want eggs, but, do not want to take the time to cook them in the morning or to dirty up a pan. I took my fluffy egg whites to a whole new level this morning.
3 Egg Whites
4 cherry tomatoes sliced
1 Tbsp sliced scallions (green onions)
2 Tbsp lowfat shredded cheddar cheese
salt and pepper
nonstick spray
Spray a microwaveable bowl with nonstick spray. Add all the ingredients above and pop it into the microwave for 1 minute and 25 seconds. Tadah – instant egg white omelet. 2 WWP and less than 100 calories – woohoo!
On the side I had a slice of Ezekiel bread with 1 Tbsp all natural organic apricot preserves sweetened with juice only. (2 WWP)
And 1/2 a humongous orange (1 WWP).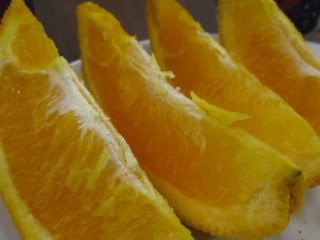 All together with some watered down Starbuck's Decaf in my "HOORAY!" cup – HOORAY it's almost Friday LOL….love this corny work coffee cup.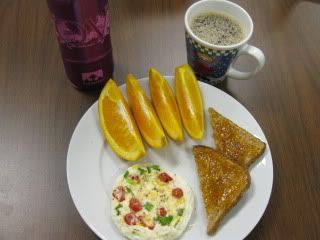 Now – Let's get down the all the FREE STUFF going on today:

* FREE sample of Origins Organic Mascara – Click HERE!
* Possibly the coolest site ever!! Go HERE to pick out the coupons you want to print and save lots of $$ on organic groceries – woohooo! An example – print out the $1 off the Hershey's Bliss Bar and take it to Target (who charges $0.94) and get it FREE!
* Take THIS survey and get a whole year FREE of your favorite Magazine subscription. Today they are giving away Cosmo & Vogue and I think it changes daily.
* FREE one day pass to Sam's Club – click HERE to print it out.
* Click HERE to order your FREE sample of Sun Crystals – LOVE Walmart Free Samples. Poke around the site for more FREE samples
Ok – That should keep you all busy for awhile! I sort of had fun last night checking out all the FREE stuff online -it's amazing all the stuff that is out there.
Oh ~ and don't forget to enter my HG Snack Pack Giveaway – it's easy to win – click HERE to enter!
Catch you all later on today with a Pop Chip Review and an awesome dinner tonight!