I came back from an amazing lunchtime walk in our 80 degree weather ready for the awesome lunch I had planned.
My brain was "fuzzy" this morning in my mad rush to get out of the house. I went rummaging in the fridge and the freezer to find the perfect lunch. I don't know if I ever told you all, but, in addition to my recipe addiction, I have a freezer addiction too….as in I FREEZE everything. I like leftovers but not leftovers for days so I often will put 1 or 2 or more servings in the freezer to have another time. It's great for days like today when there are not really any leftovers in the fridge and you need something to grab and go. It is sort of like I make my own homemade version of freezer dinners that taste so much better and contain no chemical additives.
I pulled out a Vegan/Gluten Free Falafel Patty that I made awhile back and one of the Ciabatta rolls I had in the freezer to make an amazing falafel sandwich with spinach, tomato and some of the Fresh Tomato/Basil soup you will read about below.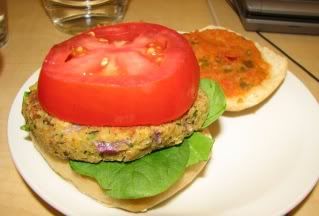 Falafel is soooo good in every way I have had it and it even reheated well after being frozen. This sandwich was awesome dipped in my home version of tomato basil soup. Since I know you all will ask, I am posting my review and the recipe for the soup below.
Tomato Basil Soup Recipe & Review

When were in Michigan 2 years ago for Christmas we had this amazing, healthy tomato basil soup at the 42nd parallel café. Ever since I have wanted to recreate it because it was THAT good and it is a non-creamy soup. I am not a big fan of cream based soups. I came across this recipe by one of the farmer's at the farmer's markets in the summer but never made it. Who makes soup in the summer, right? I probably should've then since the produce is better, but, I just made it with modifications.
It is pretty good, but, I still feel like something is missing – maybe it needs the true essence of canned tomatoes? Not sure, either way, it's a fabulous soup and a great addition to any meal to help you get in more veggies.
1 large red onion, diced
1 tablespoon ginger (I used garlic – ginger is weird)
1 tablespoon brown sugar
4 cups whole roma tomatoes, diced (+ I threw in a handful of cherry tomatoes)
5 cups chicken stock (you could use veggie, I only used 4 cups)
1 c picked basil leaves
Salt & pepper to taste
To this I added:
½ c chopped celery
½ c chopped carrot (next time I'd use less)
1 frozen triangle of homemade sun dried tomato & basil pesto
A sprinkle of crushed red pepper flakes
In a large saucepan and a little olive oil, caramelize the onions, garlic or ginger, and sugar. Add the tomatoes and bring to a simmer. Season with salt & pepper. Add the stock, simmer on low heat until very soft, at least 20 minutes. Add the basil and puree. Check for seasoning.
This lunch completely hit the spot. Oh and I almost forgot – this morning I snacked on another WW Cookies and Cream bar along with a few cashews.
Off to finish off some reports so I can get out of here for my girls night out. We are first heading to get pedicures after work then off to a great restaraunt to eat. See you all later tonight or in the morning (depending on when I get in).
Happy Friday ~ Do you have any fun plans you have for tonight? I'd love to hear about them.