I was soooo excited today when I stopped at Trader Joe's to do my weekly grocery shopping and they had Basil Plants for $2.99. Just look at how beautiful this plant is and so cheap – everyone was nabbing them up quickly!
On my next stop to the local grocery store (for non-TJ's things), I cam across the cutest BABY BANANAS. I couldn't resist picking up a bunch when I saw them even though I had already bought some regular size bananas.
Then, I had a little fun with the camera to show you how little/cute they really are. Yup – that is one of last weeks bananas but it's about a medium sized banana.
And because I can ~ check it out next to a box on Annie's Mac. I had the boxes sitting out getting ready to get packed up 😀
I was curious if they tasted like real bananas or not. I know they are a bit green so I wasn't sure if they would be ripe.
They are surprisingly sweeter than regular bananas ~ Yum! I wonder how sweet they will get after they ripen up a bit.
After running around like a mad woman trying to check off my list, I finally decided to break for lunch at about 2 PM. The Jump Start plan called for another soup to be made – Butternut Squash with Caramelized Onions, but, I just wasn't feeling it. I decided instead to pull out one of the servings I froze of Mushroom Soup. It doesn't look pretty but it is honestly so satisfying and has alot of flavor.
Along with the soup, I made up a quick salad.
*Romaine
* Spinach
* Cherry Tomatos
* 1/4 avocado – YUM! Avocado always makes salad better!
* Freshly Ground Pepper
* TJ's Lowfat Spicy Peanut Dressing – I was craving this after doing a little marketing for TJ's LOL – I ended up convincing 3 ladies to buy it as I raved about how good it is!
All together this was my completely VEGAN Jump Start Lunch – who knew that they would have VEGAN eats on the diet 🙂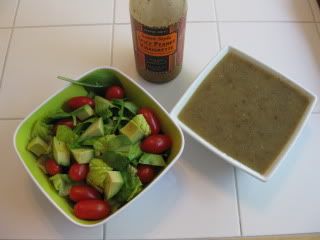 We headed out to do our Mom's Day shopping after lunch along with our Sam's Club & Target run. I didn't pick out my outfit or get new clothes yet – guess that will be tomorrow.
I have been so excited all day for dinner ~ that's a good sign when your "diet" food makes you excited, right? The recipe is coming up next!