Ooops ~ Did you all realize I never even put a title on my breakfast post? Seriously, who does that?! Oh well, that is one way to solve the dilema of how to come up with a title.
My mid morning snack was absolutely amazing. Do you all remember that fabulous Pecan Swirl Bread that I got at the Farmer's Market?
I topped it with 1 Tbsp freshly ground almond butter and it was AMAZING!!! I savored every bite with some nice, hot half caf coffee!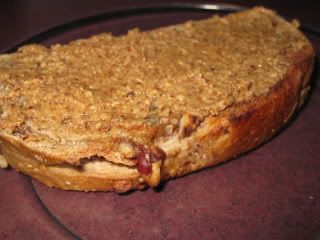 After my snack I was sitting there thinking to myself, I've had such a GOOD FOOD day and it's still morning. Then, my day and my eats got even better when we decided to head out to Buckhorn's Grill for lunch. We ran a bunch of errands first, including officially getting our $1 a day gym memberships, to the post office and the bank. After ALL that I was STARVING. Can you guess what I ordered?
None other than the Yik Yak Salad with Southwestern Chicken. I LOVE, LOVE, LOVE this salad ~ here is the description of everything it includes. "An oriental salad with south of the border flair; a crisp mix of greens, cabbages, jicama, red peppers, snow peas, tossed with sweet sesame dressing & topped with toasted almonds"
SOOOO GOOD! I pretty much inhaled all of it but only had a few bites of the spicy tortilla. I used it to make little mini burritos.
I brought another Gnu bar for my afternoon snack, but, thought that may be a bit of fiber overload after having the Vitatop at breakfast. As I was pondering if I needed anything to snack on at all, a little mini pile of M&M's appeared on my desk.
It was just enough to satisfy the sweet craving I had since I wasn't really needing a snack.
Have you entered to get your GNU Bars yet? Click HERE for your chance to win!!!