Body Step! was so intense, but, in a really good way. Can you believe I burned 421 calories in the short 45 minute lunchtime session?! Awesome……other than I applied my co-workers way of thinking later on in the day. More on that in a second.
I was pretty hungry mid morning and I chalked it up to not having enough protein in my breakfast. I made up a quick protein snack that seriously reminded me of dessert.
1/2 c TJ's 2% Greek Yogurt
1/2 c Super Sweet Pineapple
Drizzle of Sweet Cactus Agave Nectar
YUM! Greek yogurt + agave nectar = LOVE!
Last night I didn't do any food prep for today so my lunch was made up of everything I could dump into my bag. I WISH I had kept the red bell pepper and carrots in there for color but you only have so much room when you are taking the whole bag of organic romaine and organic celery 😀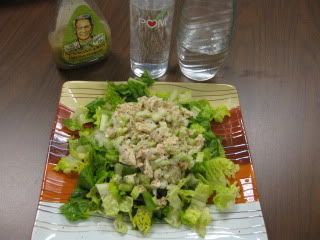 6 oz can water packed Albacore Tuna Drained
1/4 diced onion, (yes, I took a WHOLE onion to work to cut a little 🙂
2 celery stalks, chopped
Big dashes of Dill Weed and Garlic Salt
2 Tbsp Newman's Own Lightened Up Lime Vinaigrette (LOVE this on Tuna)
Freshly Ground Pepper
All on top of organic romaine lettuce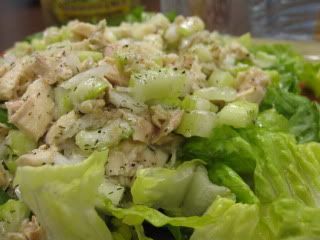 I was still a little hungry after my salad so I grabbed a small handful of the TJ's Organic Wheat Flax crackers.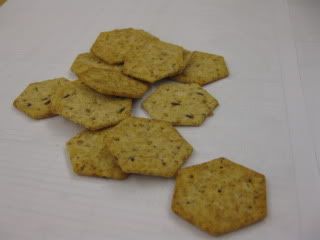 I am pretty sure you all know I absolutely LOVE cupcakes ~ they are honestly the BEST dessert ever created, aside from ice cream. We had some leftover cupcakes from the baby shower that I just didn't want to pass up on today ~ especially since I know they have Whipped Cream Frosting!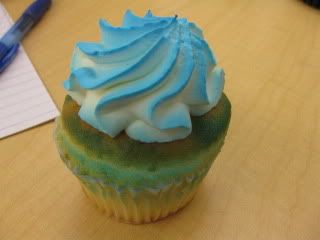 This cupcake really was as good as it looks ~ light, fluffy, creamy and it gave me BLUE fingers ~ oops! No hiding that LOL. My co-worker said she earned a cupcake after doing Body Step and you know what – it stuck in my brain! Not saying it's a good thing to remember….just saying I did *sigh*
My Holey Donuts are STILL up for grabs. Click HERE if you haven't told me why you want to win them yet!