If the Fish Tacos I made the other night were not your thing (b/c it's FISH), then, I guarantee this is the recipe you will want to make for Cinco De Mayo. I LOVE that you do everything on the grill (no pans to wash!) and it's perfect for a hot summer day when you do not want to heat up the house.
GRILLED CHICKEN FAJITAS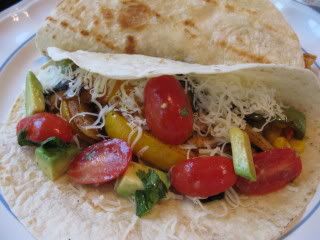 I LOVE, LOVE, LOVE Veggie Terrain's Taco Seasoning and use it anytime I need a meal with Taco Seasoning. (Her Crunchy Chic Pea Tacos rock too – I made them during the Vegan/Gluten Free Challenge – take a peak by clicking HERE). I highly recommend making some up and keeping it on hand – it is better than any package mix you can ever buy.
You start off by rubbing 2 chicken breasts with this fabulous taco seasoning.
And place them on the grill:
Slice up 3 bell peppers (I used green, yellow & orange) and one onion. Drizzle with Olive Oil – I used Consorzio's Garlic Olive Oil (so good!). Sprinkle 1 Tbsp of the taco seasoning above on your veggies and toss to coat. Pour them in your your prepared with nonstick spray grill basket. I LOVE the one my sis got me from Pampered Chef.
While your veggies and chicken are grilling, prep your toppings. I finely grated up some lowfat monterey jack cheese.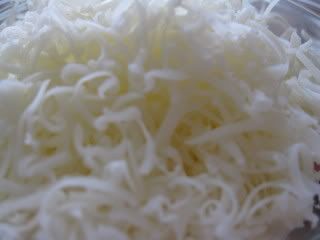 Sliced a few black olives in half ~ The Husbands favorite addition.
I also made up a quick avocado/tomato type salsa. I sliced up a handful of cherry tomatoes with 1/2 an avocado, 2 Tbsp cilantro and drizzled it with the juice of half a lime. You can season with sea salt and pepper if desired.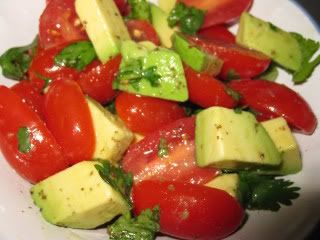 Pull your chicken and veggies off the grill and let them rest for a few minutes.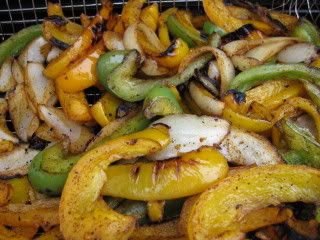 Spray your tortillas with a little nonstick cooking spray and place them on the grill for about 20 seconds on each side or until lightly browned.
Look how cool they look with the grill lines and they cook so much faster than on the stove.
Next, slice your chicken and add it to your grilled veggies.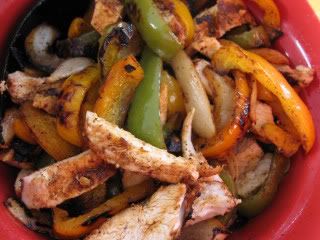 Next ~ assemble your grillicious chicken fajitas. You can add your favorite salsas or hot sauce to spice things up. I used Trader Joe's Tomato-Less Corn Salsa – I LOVE this stuff – it's spicy sweet with a little crunch from the peppers and corn.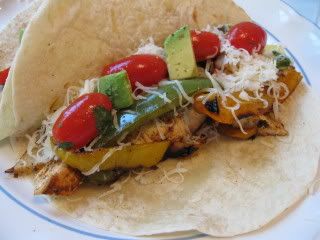 I had two fully stuffed to the max with everything I could fit in there. These smelled so amazing cooking and they taste even better.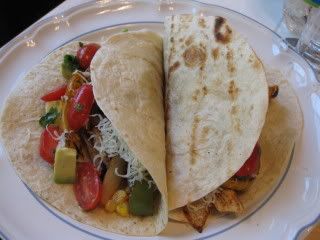 Did I mention this is the first time I've ever made fajitas on the grill? It was fun and I will defintiely do it again!
I have an exciting announcement for you all tomorrow (a giveaway!!!) so stay tuned for more details…I know this is the one contest you all have been waiting for!
I am off to read my new magazines that I got yesterday and relax. Hope you all had as good of a weekend as I did!