Happy April Fool's day all! This is a fun day to me because I can almost guarantee The Husband is going to try to "fool" me at least a couple of times. I like to embrace it and make it fun ~ why not, right? Every day should start out with a good laugh to set the tone for the day. Smile, be happy and have fun today, especially with your food!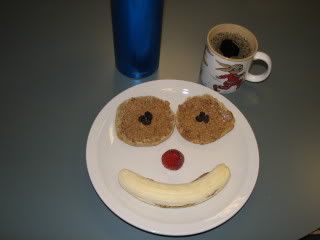 I couldn't resist making this up today since I am personally happy it's hump day and the week is half over ~ yahoo!
1 Thomas Double Fiber English Muffin
~ 1 1/2 Tbsp Almond Butter
A few organic raisins
1 strawberry
1 banana stuffed with a little almond butter
Have an awesome day all! I know that I am swamped today with it being year end. I am also doing my job plus my old bosses job while he is out on medical leave. But, you know the best part of it all ~ time flies by and before you know it, I am home and enjoying the best part of my day with The Husband.
Blog Giveaway Alert!!!
Be sure to check out Meghann's Erin Baker Wholesome Vegan Cookie Giveaway for your chance to win some awesome cookies. You can check out the contest by going here.
I am hoping to get the chance to see you all at lunch, if not, I'll be back tonight for sure.