I LOVE oatmeal, really, I do – going vegan or not, I eat oatmeal all the time. However, I'll be the first to admit that I am a bit of an oatmeal snob. I only truly enjoy Old Fashioned Oats and Steel Cut Oats (brands do matter too) lol. I am always inspired by Kath's bowls of oatmeal and they seriously make me drool. I love getting creative with my oats while adding a bit of healthy stuff to it that is good for me. Since today is a bit rainy outside I was definitely in the mood for a nice bowl of oats with some toasted coconut coffee (we got in while in Hawaii in December – so good!).

Today's vegan breakfast was so fast (2:30 in the microwave, add toppings & tadah!) and delicious. My Apple Blueberry Apricot Oats included:
* 1/2 c old fashioned oats
* 1 T ground flax seed
* 1-2 T unsweetened organic dried blueberries
* dashes of cinnamon & vanilla
* 1 c water
Toppings:
* 2 T TJ's organic low sugar apricot preserves (spread on the top after cooking)
* 1 T WF's freshly ground organic almond butter (on a spoon so you get a little with each bite)
The Husband's co-worker picked his Tangelo tree for us and brought over this huge bag of Tangelo's (1/2 pomelo, 1/2 tangerine). We couldn't fit them all in a bowl, but, here is about 2/3's of the Tangelo's ~ Yum! We will definitely be sharing this with our family & friends.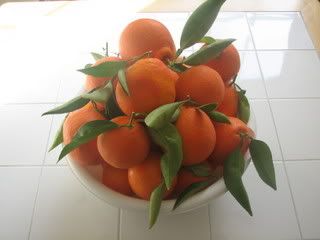 Have a great Sunday all ~ check back later for more vegan eats including a few new fun recipes!